Posted by Jonathan Maus (Publisher/Editor) on December 6th, 2010 at 11:42 am
Portland-based manufacturer Chris King Precision Components now makes an espresso tamper. If the release of a precision coffee component by a bike company seems strange to you, you are probably not familiar with Chris King — the man or the company.
Chris King has always been a gourmet kind of guy. His passion for fine food and drink mirrors the passion for high-quality components that has made his name famous to a global legion of bike enthusiasts. King combines these loves in his annual Gourmet Century. Known as "The most civilized bike ride in the country," Chris King has personally catered this event for over a decade.
Also of note is that Chris King has been selling salt and pepper shakers made from their hub shells for years now.
King's latest pursuit is the art and science of coffee-making. And, as you'd expect, he has developed the espresso tamper with same exacting attention to details that have made his company's tools, hubs and headsets the industry standard for over 30 years. Here's a company blurb about the new tampers:
"Our espresso tamper is born from an appreciation of the coffee making process as much as the coffee it produces. We worked in collaboration with the Portland, Oregon based American Barista & Coffee School to develop a professional grade espresso tamper with precise dimensions, exceptional feel, and the iconic shape that every cyclist recognizes as the very best."
And of course they come in a variety of colors:
And here's the spec sheet: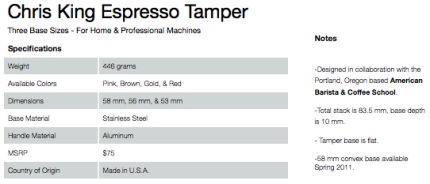 The Chris King Espresso Tamper is 100% made in Portland and retails for $75.00. You can see them in action at three Portland coffee houses: The Red E Cafe, Heart, and Water Avenue Coffee.