Gresham has installed over 100
wayfinding signs.

The City of Gresham (our neighbor about 13 miles east of downtown Portland) has officially made it onto the bike-friendly map. On Wednesday, the League of American Bicyclists awarded Gresham a Bronze level Bicycle Friendly Community designation.
Kevin Belanger, who works in Gresham's Transportation Planning department, says they're proud of the distinction and that "We'll be using it to push ourselves even further."

The recognition is likely due to several recent projects that show the City of Gresham is getting serious about bicycling. They've recently updated their official bike map and the Gresham Bicycle Guide, which will include the map and other useful information.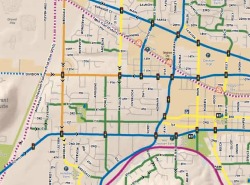 Detail of the recently updated
Gresham Bike Map.
Thanks to a lot of volunteers and a $50,000 grant from Metro, the City of Gresham has also installed over 100 new bike wayfinding signs. The signs — nearly identical to the signs installed in Portland last month — have been placed along major bike routes and include directional arrows and travel time estimates to key destinations.
With their proximity to the (freshly paved) Springwater Corridor Trail, the under-construction Gresham-Fairview Trail, and a planned off-street trail along the existing MAX light rail line, Gresham is well-positioned to have an excellent bike network. And, as we've seen in Portland, when the number of good bike routes goes up, so will the number of riders.
Do we have any readers from Gresham? Are you feeling the momentum? We'd love to hear from you.
If you have questions or feedback about this site or my work, feel free to contact me at @jonathan_maus on Twitter, via email at maus.jonathan@gmail.com, or phone/text at 503-706-8804. Also, if you read and appreciate this site, please become a supporter.