Posted by Jonathan Maus (Publisher/Editor) on September 9th, 2010 at 8:17 am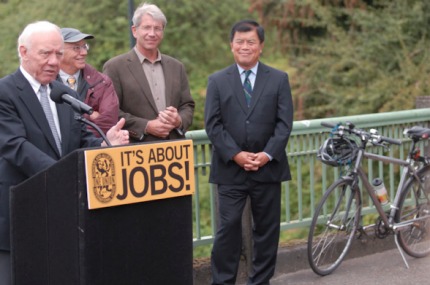 Congressman Jim Oberstar (D-MN) speaks at a press conference near the Broadway Bridge yesterday. Standing behind him are fellow House Representatives Peter DeFazio, Kurt Schrader and David Wu.
(Photos © J. Maus)
With dozens of workers from the Eastside Streetcar Loop project looking on, three members of Oregon's congressional delegation — Representatives Kurt Schrader, David Wu, and Peter DeFazio — joined Portland Mayor Sam Adams, Congressman Jim Oberstar and union leader Ray Sesma for a press conference on the east side of the Broadway Bridge yesterday.
"This inter-modal setting we have here is the template for America… There is a transit revolution happening in America, we're adding a million new transit rides every day. We have to keep that momentum up."
— Rep. Jim Oberstar
The goal of the event was to build on momentum from a transportation infrastructure funding proposal that President Obama announced on Labor Day and to urge Congress to pass a reauthorization of the Surface Transportation Authorization Bill.
"It's about jobs!" was the message emblazoned on the podium, on the back of seats, and on a bus parked near the event. Job creation was also a big part of all the speeches.
Mayor Adams mentioned the thousands of jobs created by the streetcar project and he also pointed out that it includes new bike lanes for the 4,000 people who cross the bridge by bike every day. In a statement released after the event, Adams said he's calling on Congress to pass a reauthorization of the transportation bill and he plans to travel to D.C. later this month to push for Portland projects he'd like funding for.
Mayor Adams
Adams also shared a list of seven "priority projects" totaling about $231 million dollars. The list includes $25 million for over 100 miles of bike boulevards, $163 million for the Portland to Lake Oswego Streetcar project, and $10 million to improve SW Capitol Highway between SW Multnomah Boulevard and SW Taylors Ferry Road (read the full list here).
All four congressmen in attendance spoke about how spending on infrastructure would create new jobs while also modernizing our transportation network. Peter DeFazio commented that the Broadway Bridge is a great example of the type of multi-modal infrastructure America needs more of. "Streetcar, light rail, auto, truck, and bicycle and pedestrian — this is the future of transportation in America and we just need to move forward." Kurt Schrader said he was happy President Obama was "finally listening" to he and DeFazio's advice on this issue and called the $50 billion a "great down payment to get America back on track."
David Wu, whose district stretches from metro Portland all the way to the Oregon coast, said a new bill would mean, "Jobs for Oregonians, innovation, and movement toward more livable communities."
Representative Jim Oberstar (D-MN), who will play a major role in the new surface transportation bill as Chair of the House Transportation & Infrastructure Committee, spoke in his typically fiery tone. Oberstar said he and his colleagues are "ready to bring that bill to the floor" but all that's missing is a funding mechanism. "The highway trust fund has given America the greatest mobility of any nation on Earth, but we can't keep up if we don't invest in our infrastructure." Oberstar also applauded Portland, saying, "This inter-modal setting we have here is the template for America. That is where we're headed. There is a transit revolution happening in America, we're adding a million new transit rides every day. We have to keep that momentum up."
While the transportation bill is making headlines now, Oberstar acknowledged that, because of "election jitters" and obstructionist politics from Senate republicans he doesn't expect to bring any legislative proposals to the floor until after the mid-terms.
When asked for details on Obama's recent proposal, Oberstar said there weren't many to talk about yet. "The important thing is," he said, "they've signaled a willingness to engage in the future of transportation that the previous administration did not."
What this press conference confirmed is that the national discussion about transportation will be heavily focused on job creation. Active transportation advocates need to keep that in mind.
— View more photos from the press conference in our gallery.
Jonathan Maus is BikePortland's editor, publisher and founder. Contact him at @jonathan_maus on Twitter, via email at maus.jonathan@gmail.com, or phone/text at 503-706-8804. Also, if you read and appreciate this site, please become a supporter.