Posted by Jonathan Maus (Publisher/Editor) on September 8th, 2010 at 11:21 am
The City of Santa Rosa California (about 55 miles north of San Francisco) installed a new piece of public art last month that's worth a look. The "Cyclisk" is a monumental, 60-foot tall, Egyptian style obelisk sculpture made by artists Mark Grieve and Ilana Spector that is made out of recycled bikes.
Check it out below the jump…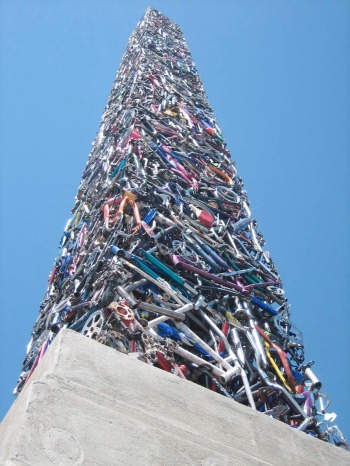 The "Cyclisk", five stories of bikes!
(Photo: City of Santa Rosa)
Besides the fact that it's made out of hundreds of used bikes, what strikes me about the sculpture is that it's located in the middle of a bunch of auto dealerships and it was paid for by Nissan of Santa Rosa to fulfill their "1% for the Arts" requirement (they're building a new dealership nearby). Given the funding from a car company and the fact that obelisks are often erected as memorials to dead people, I'm starting to wonder what kind of message this sends.
Artist Mark Grieve says the Cyclisk is "a series of intersecting rhythms – a visual metaphor for the human experience – technology and the humanities – history and the future – individual and collective." Artist Ilana Spector says that, "…the City is psyched the sculpture will solidify Santa Rosa as bike-friendly."
I'm probably over-thinking this. It's a very cool sculpture, I'm just curious if I'm the only one thinking about it like this. What do you think? Is this a beacon of bike-friendliness or a sly move by an auto company to show that bikes are dead? Would Nissan have funded an "Autoisk"?
— Read more about the project on the City of Santa Rosa's website.
Jonathan Maus is BikePortland's editor, publisher and founder. Contact him at @jonathan_maus on Twitter, via email at maus.jonathan@gmail.com, or phone/text at 503-706-8804. Also, if you read and appreciate this site, Jonathan hopes you'll become a supporter.