Posted by Amos Hunter (Columnist) on September 1st, 2010 at 8:35 am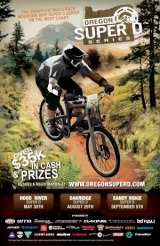 Super D!
After several months of jam-packed event calenders this Weekend's light schedule will give you a chance to go on that ride you've been thinking about, revisit your favorite regular events, and for those who have already given up on summer altogether, go shopping for rain gear.
Friday, September 3rd
6:30pm: Vegan Dinner Bike Ride
Meet your fellow deep-rooted vegan enthusiasts and branch out to try new and exciting cuisine. Ride meets at on the Colonel Summers Park greens and heads to a different vegan-friendly restaurant or food cart, followed by a chance to talk chop at an area watering hole.
Saturday, September 4th
8:30am (Returns Monday Evening): Cycle Wild Primitive Bike Camping up the Clackamas
Like to get your hands dirty and your feet wet? Join bike camping pros Cycle Wild on an unsupported group camping trip up the Clackamas river to a primitive (that means no showers, toilets, or cable television) camp spot.  Group meets at 8:30am at the Cleveland Max Station and rides 45 miles to the site.  Read more about the trip on Cycle Wild's Facebook event page and learn all about bike camping at cyclewild.org.
Sunday, September 5th
10:00am: Sandy Ridge Super D
An action-packed downhill cross-country mountain bike race on the Sandy Ridge, the Super D is the main event of a weekend of dirty bike fun just outside of Windell's Camp.  Camping, lodging, and registration information available on the Oregon Super D website.
2:00pm: Bike Polo
Bike polo has been sweeping the country and is popping up in almost every town.  If you have never seen or participated in this great sport come watch or join the gang at Alberta Park that have been playing there every week for over five years.  Bike polo is lots of fun to watch, and even more fun to play, so bring a beater bike if you want to jump in.