The new bike-only signal at NE
Alameda and Sandy was
one of several highlights
of the ride.
(Photos © J. Maus)
Instead of their usual monthly meeting at City Hall, the City of Portland's Bicycle Advisory Committee took to the streets for their annual bike ride last night.
The idea of the ride was to share some of PBOT's recently completed and upcoming bikeway projects with committee members and other interested citizens and advocates. Notable faces on the ride included author and reporter for The Oregonian Jeff Mapes, Portland Police Officer (and BAC Vice-Chair) Robert Pickett, Mayor Adams' Chief of Staff Tom Miller (riding his daughter in a bakfiets). Also joining us were several of bike planning professionals from around the region and the state including the biking and walking program coordinator from the City of Wilsonville Jeff Owen and City of Eugene planner David Roth.
Below is a detail of the ride map followed by a few highlights.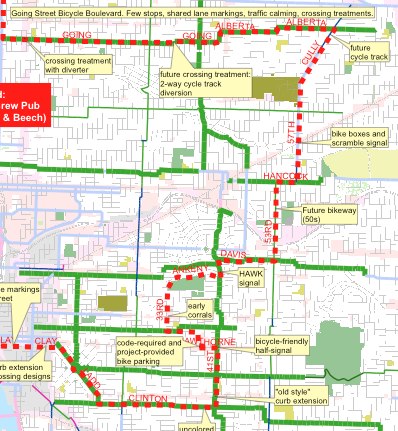 Detail of ride map.
This ride was the first time I took the SE Clay Street connection to SE Ladd, and I liked it much better than taking Hawthorne the whole way. Clay has been the focus of a large-scale PBOT/BES green street project and it is called out as a key bikeway in the City's Bike Master Plan. An added bonus is the street's unbroken connection directly to the Eastbank Esplanade through a multi-use path west of Water Avenue.
Bike parking at Fred Meyer
The next thing on the ride that caught my eye was the newly remodeled Fred Meyer store at SE 39th and Hawthorne. The store is full of green features, including a massive and covered bike parking structure placed right up front near the main entrances. Kudos to Fred Meyer for getting that right (well, everything but the use of ribbon racks).
Looking north on 57th at Sandy.
From southeast the ride headed north through what will someday be the 50s bikeway. We stopped at the sprawling intersection of NE Sandy, Alameda, and 57th. PBOT bike coordinator Roger Geller called this "the most innovative collection of bikeways at any intersection in the city."
PBOT has recently finished a project to tame this intersection that includes green bike boxes on 57th and the city's second bike-only traffic signal (PBOT calls them "bike scramble signals"). The new signal is to help bike traffic on NE Alameda make the long, 110-foot journey across Sandy and 57th. A new "Bike Signal" sign directs people to a button and when the bike signal is green all other traffic stops.
Cully cycle track coming soon.
Up the road from Sandy we all stopped at the construction site of Portland's first (real) cycle track coming to NE Cully Boulevard. The new cycle track will be a 10-foot wide bikeway that is physically separated from both people walking and driving (I went into more detail about the plans back in November 2008). The cycle track is part of a $5.5 million project that will completely reconstruct Cully from NE Prescott to Killingsworth. The project is slated for completion by Summer 2011.
From Cully we headed west, via the City's premiere bike boulevard on Going Street. Geller called it "the best bike boulevard in the city right now." Mark Lear, the special projects guru for PBOT in charge of their bike boulevard projects told us how they've flipped 19 stop signs and added 30 speed bumps to make the street a true "family friendly bikeway." The experience riding on Going is truly fantastic. From NE 72nd or so until N. Williams, you really only have to stop a handful of times.
As most rides do, the BAC tour ended at a pub where serious bikeway development discussions lasted long into the night. Learn more about the BAC on the City's website.
Contact Jonathan at @jonathan_maus on Twitter, via email at maus.jonathan@gmail.com, or phone/text at 503-706-8804. Also, if you read and appreciate this site, please become a supporter.