Posted by Jennifer Clunie (Contributor) on April 17th, 2010 at 11:49 pm
The following article is by Jennifer Clunie. Formerly the executive director of the New York Bicycle Coalition, Clunie has been a Portland resident for less than two weeks. She came for no other reason than to immerse herself in a city where bicycles are part of the culture. In the article below, she shares her impressions from opening night at Filmed by Bike.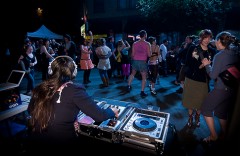 A DJ kept the crowd moving at
the Filmed by Bike street party
Friday night.
(Photo:
BikeRanger/Flickr
)
A recent transplant from New York State, I finally witnessed first-hand the remarkable experience of rush-hour bike traffic Friday night. Cyclists poured out of their offices, shops, restaurants, and public buildings and flooded the streets from every direction, whirling and clicking in syncopated rhythm. This phenomenon was part of no group ride, designated charity event or heavily promoted race with cash, points or pride on the line, but rather individuals choosing to transport themselves to their destinations via two wheels, rather than four.
And on this particular Friday night, all roads for cyclists seemed to lead to the Clinton Street Theater for the opening premier of the 8th Annual Filmed by Bike film festival happening this weekend (April 16th-18th).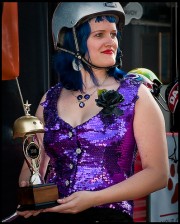 Fellows on full-carbon Pinarellos co-mingled with cargo bikes, mountain bikes and commuters in Day-Glo neon green jackets, fenders, and heavily-laden panniers. A mom was spotted arriving with a double Tag-Along and two small boys in tow, promptly followed by a young woman wearing fluorescent purple hair, short skirt and black garter belt and stockings. From Pearl Izumi to polka-dot print dresses and pumps, hipster jeans to sequined scarves and proud display of "I [BIKE] PDX" tees, Filmed by Bike attracted a crowd as flavorful and varied as Portland itself.
Reflecting the scene outside the theater, the films chosen for opening night featured a mix of mediums and messages ranging from silly to serious, fervent to fun. Whistles and cheers erupted as the moral of Travis Wittwer's Rack Attack! broadcast: "bike racks are an indicator species of a healthy community." Locals must have felt right at home as kilt-wearing and bagpipe-playing Everyman rolled past Ankeny Square, VooDoo Donuts, and through the stacks at Powell's Books on his unicycle. Snaps for catchy bike rap tunes go to I'm on a Bike! from Fort Collins, Colorado and would-be roadie theme song Performance, the film that took the web by storm when it debuted back in August.
There was wacky and there was wonk. Copenhagen's Climate-Friendly, Bike-Friendly Streets inspired and excited. Upon learning of of Copenhagen's latest implementation of special LED lights and sensors notifying motorists when cyclists occupy the right lane–preventing the dreaded right-hook collision–one gentleman stood up and shouted, "I'm moving THERE!"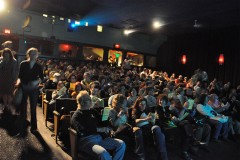 Crowds packed into the theater.
(Photo: Filmed by Bike)
The film that won the lion's share of cheers, laughter and huzzahs! was, hands-down, Mein Fiets. A parody of Hitler wants to ride his mountain bike which had gone viral on YouTube earlier this winter, North Portland resident Allan Folz pulls no punches when examining current the state of affairs regarding Critical Mass in Portland. Whether you're a Zoobomber or "rich square" at the BTA, expect to get called out on how the land once regarded as "Little Beruit" now (in our dubious protagonist's opinion), offers nothing more than a series of "campy theme rides."
At the inaugural event in 2003, Filmed by Bike organizers hoped for 40 attendees: they rejoiced at 80. In the seven years since, the festival has expanded into a three-day affair, with two separate programs and an expected attendance of between 2,000-2,500.
While Filmed by Bike receives submissions from independent filmmakers from around the world, the roster is dominated by those who hail from Portland, Oregon — a reflection of the vibrant culture in this city, according to the event's founder Ayleen Crotty. "Portland is so advanced in bike culture beyond advocacy." While still an important and valued element, Crotty acknowledges, "[advocacy] is so well-covered and so many are engaged, it gives freedom for more artistic elements to flourish."
During the Opening Night Street Party, amidst dancers, stilt-walkers, and performers with glow-in-the-dark Hula Hoops, I caught up with Matt Case from Team Beer outside the New Belgium beer garden. "It's pretty diverse — and impressive. With relatively different and diametric opposite groups, people seem to be able to get along." Citing events like Filmed by Bike and Pedalpalooza, Case comments, "It all coalesces here in Portland. It's pretty cool."
Filmed by Bike continues on Sunday, with films airing at 5 (followed by filmmaker Q+A), 7 and 9pm. Those looking to celebrate all facets of bicycling as we know it are welcome and encouraged to attend.