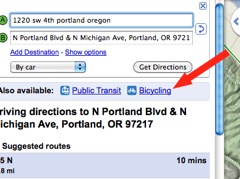 There it is.
The League of American Bicyclists has just sent out a press release confirming what I speculated (and all but confirmed) earlier today — Google has turned on biking directions for Google Maps.
Google will publicly announce the big news at Wednesday morning's Opening Plenary Session. About the announcement, the League's Andy Clarke says, "… It is a game-changer, especially for those short trips that are the most polluting… This new tool will open people's eyes to the possibility and practicality of hopping on a bike and riding."
In addition to an option for "Bicycling" directions, Google also has a new layer view that include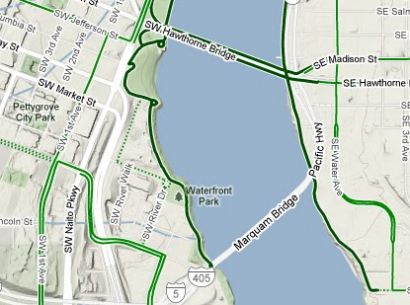 A view of Portland with the "bicycling" layer turned on. Green shows bike routes (note for you non-Portlanders, the green line on Waterfront Park is an off-street, multi-use path).
According to Google, bike directions have been the most requested addition to Google Maps.
I tried out the feature using Portland as my base location (I'll confirm tomorrow what cities the bicycling layer works in) and it worked well. With the "bicycling" layer turned on, I noticed it automatically found off-street paths like the Waterfront Park path and the Springwater Corridor Trail.
Here's a blurb from the League's press release:
"Simply enter a start point and destination and select "Bicycling" from the drop-down menu. You will receive a route that is optimized for cycling, taking advantage of bike trails, bike lanes, and bike-friendly streets and avoiding hilly terrain whenever possible."
Read Gabe Tiller tried a route from Northeast Portland to Oaks Park via the Springwater and reports that it's not the exact route he'd use. Another person via Twitter said it recommended riding on West Burnside, a very unsafe street for bikes.
I've got a demo scheduled with a Google rep tomorrow. If you have questions you want me to ask her, leave them in the comments. In the mean time, I'd love to know if the bicycling feature works for you. Give it a try and report back in the comments 1) if it's turned on in your area and 2) if it works.
---
Bike Summit coverage sponsored by Planet Bike. More stories on our special coverage page.