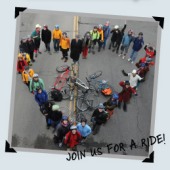 What a lovely group.
(Photo © J. Maus)
Rejoice in tons of great bike stuff to do this weekend! The 7th annual Mini Bike Winter starts tonight and goes through Sunday. If you've never checked it out before, this would be an excellent year to do so.
Check out the listings below:
Thursday, February 11th
8:30 pm: Mini Bike Winter (MBW) – Opening Gala
"We will be sharing with you a panel of exciting speakers, a collection of bicycle films, and the ever popular DIY stencil station." This is the kickoff event for Mini Bike Winter!
Friday, February 12th
7:00pm: "Quicksilver" Movie Screening
The Red & Black Cafe (400 SE 12th) is hosting a screening of the class bike movie Quicksilver as part of a monthly film series. It's a $5 cover and proceeds benefit the Bike Farm.
8:00 pm: Mini Bike Winter Opening Ceremonies
Meet under the Hawthorne Bridge for details on the Scavenger Hunt, Torch Ride, and Midnight Mystery Ride. You'll also get the jump on the weekend action to come.
Saturday, February 13th
10:30am: Wanderlust Men's Ride
"Pre-Valentine Saturday Morning Endorphin Enhancing Dessert Ride."
11:00am: Mini Bike Winter – Brunch, Chariot Wars, Party
Saturday is The Big Day for MBW 2010. Start things out with brunch (you'll need the calories!), then witness and/or participate in the amazing spectacle that is the Ben Hurt Chariot Wars, then nurse your wounds at the Circus Freaks Party!
All Day: Cherry Pie Road Race
Lots of Portlanders will be headed down to Corvallis for the OBRA race season opener. Time to test those winter riding legs and see if all your base miles and cold, wet training rides have been worth it.
Sunday, February 14th – Valentine's Day!
10:00am: Sweet Hart Tour
This ride will be a 15-mile loop to three parks in an around Beaverton that have the name "Hart" in them. What a great way to spend Heart Day (hot beverages and baked goods at the end don't hurt either).
10:00am: Worst Day of the Year Ride
This is going to be an epic WDYR. Organizers say they could have 3,500 people. Even the ride's creator, Congressman Earl Blumenauer is set to be there. With a "love your bike" theme and the Valentine's Day spirit running through it, this is a ride you should not miss.
6:00 – 9:00pm: Citybikes Wheel Building Class
I've heard great things about this class. My neighbor Alan built a wheel for his Surly Pugsley at the last one. This is the second of a two-part class, but I think you can go without attending the first one. Call the Citybikes Annex at (503) 239-6951 for more info.
---
Did I forget something? Fill me in via the comments or drop me a line and I'll add it to the list.
If you have questions or feedback about this site or my work, feel free to contact me at @jonathan_maus on Twitter, via email at maus.jonathan@gmail.com, or phone/text at 503-706-8804. Also, if you read and appreciate this site, please become a supporter.