Screenshot from City's
new iPhone app.
The City of Portland has released a new iPhone app that allows citizens (who own iPhones) to document and submit reports on a number of issues. Dubbed the "Citizen Reporter," the new app is available free in the iTunes App Store.
In a press release issued today, the Mayor's office said the app is a new way, "… to report and request service calls to City assets and publicly maintained infrastructure, including parks, traffic signs, parking, potholes, street lights, sewer catch basins and graffiti."

Saying that open source software "is central to the spirit of democracy" Mayor Adams sees this as a way to increase communication between his office and his constituents and build "greater transparency, efficiency, and accountability in government."
"I reported a crushed bike rack and got a call for details the next day."
— From a reviewer in the iTunes App Store
I had a chance to install the app on my phone today. I haven't come across a pothole yet, but it looks to be quite a nifty tool. Not only can you submit the report (which is then sent directly to the appropriate bureau), but they claim the app will also track the status of your issue and send you updates if/when it's resolved. There's a separate "My Reports" window where you can view issue status. It's also tied into the phone's GPS feature so you don't have to type in your location.
Right now, there are only six "Report Types" to choose from; graffiti, park maintenance, parking, sewer cleaning, street lighting, and potholes.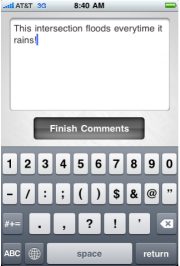 Tell 'em what you see.
According to the Mayor's office, once the app is out in the wild and being used widely, they intend to add more service request types. There are also plans to release the application for other smart phone platforms.
My hunch is that this app will be widely used by people who ride bikes, since we tend to notice more of our environment than folks in cars or in buses and trains (not to mention that it's easier to stop when riding a bike). It would be great if they added a "Bike Lane Maintenance" service request option or another one I'm always in need of reporting, "Traffic Light Timing."
That being said, if you submit a report for something that doesn't fit one of their pre-loaded categories, I'm sure they'll still accept it. One reviewer of the app writes, "I reported a crushed bike rack and got a call for details the next day."
— Check out the app in the iTunes store. For a full rundown of how it looks and works, visit PortlandOnline.com/iPhone.