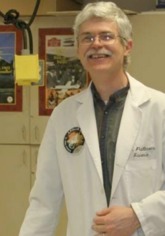 Gordon Patterson
(Photo: Vancouver Public Schools)
The man who hit and killed Vancouver high school teacher Gordon Patterson as he rode his bicycle in a bike lane along St. Johns Boulevard will face sentencing tomorrow (1/22) at the Clark County Courthouse. Antonio Cellestine, 18, has entered a plea bargain in the case.
The City of Vancouver Police Department has announced a hearing for Cellestine's sentencing that will be open to the public.
On September 16th of last year, Cellestine fled the scene after striking Patterson from behind with his sedan. Cellestine was later found and arrested for felony hit and run. Patterson, 50, was a well-known teacher at Hudson's Bay High School.
The public hearing for his sentencing is scheduled for tomorrow at 10:30am at the Clark County Courthouse (1200 Franklin Street).
UPDATE:
A commenter pointed out that Cellestine's girlfriend held a carwash fundraiser that was billed as a benefit for Gordon Patterson, but she then used the proceeds to bail Cellestine out of jail. From the Seattle Times (via The Columbian):
"An 18-year-old woman has been charged with theft, accused of organizing a car wash for her jailed boyfriend while saying the fundraiser was in honor of a man the boyfriend is accused of killing in a hit-and-run crash.

Vancouver police say Mallory Ewart raised money under the guise the car wash was for the benefit of the family of Gordon Patterson… According to court documents, Ewart organized the Sept. 27 car wash and even got friends to hold signs and yell to passing cars: "Support the Pattersons.""
Read more coverage of Ms. Ewart from The Columbian.
Wow.