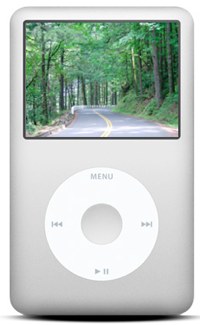 The open road, now available your iPod.
We're big fans of the Rubber to the Road books, which exquisitely detail some of the best road rides in the Portland region. Back in March, we shared how they leapt from the bookshelf onto the web. Now, publisher River City Bicycles has teamed up with Portland-based TimeStream Software to take that idea one step further.
44 routes from Rubber to the Road are now available as interactive route guides that can be beamed to your iPod. And the best part — according to the founder of TimeStream Software, the Portland-based company that developed the technology — is that anyone can share photos and route information of their favorite ride, and then upload it for others to use.
Here's the blurb from TimeStream:
"…in addition to riding with music on their iPods, cyclists can have detailed Descriptions, Turn by Turn Directions and corresponding photos for 44 outstanding rides from Multnomah Falls to the Yacolt Burn, from Oregon City to Washougal, Washington."
Here are a few more shots of what it looks like:
Routes include many favorites local destinations like Council Crest, Multnomah Falls, Oregon City, Larch Mountain (which is closed for the winter) and more.
Mike Westby, the founder of TimeStream Software is a rider himself. He told me via phone this morning that he's "jazzed" about the crowdsourcing potential of this technology. "We're hoping this inspires people to create a 'Notescast' [so named because it uses iPod's Notes feature] for their favorite ride, post it to the website, and eventually we'll build this great resource everyone can use."
The Rubber to the Road route guide is available free via download from Notescast.com, where anyone can post their favorite rides for others to download (there's also a step-by-step guide on how to do it). The technology works with iPod Classic, iPod Video, and iPod Nano.
Jonathan Maus is BikePortland's editor, publisher and founder. Contact him at @jonathan_maus on Twitter, via email at maus.jonathan@gmail.com, or phone/text at 503-706-8804. Also, if you read and appreciate this site, please become a supporter.