I took a trip down to Southern California to visit family last week (to the north Orange County town of Cypress to be exact). Each time I go, I see my surroundings through a lens that's colored by the dueling perspectives of growing up there through my high school days and the Transportation Wonk Disease I've caught from living in Portland the past five years.
That mix makes for interesting observations.
Making this recent trip even more interesting was that my mom's house — nestled at the end of a quiet cul-de-sac in a Cypress subdivision — played host to six Sprockettes. The Sprockettes (of which I've been a fan for years and now my wife is one too) used our place as a home base for their performance at the San Diego stop of the New Belgium Tour de Fat.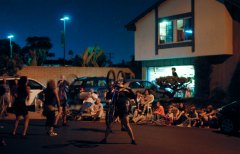 Sprockettes do suburbia: A
performance in front of my
mom's house in Cypress.
The night before the performance, the ladies treated our family and friends (my stepdad, who got me into biking when I was a kid, had a party in the Sprockettes' honor) to a run-through out in the cul-de-sac. There they were — Portland's mini-bike dance team doing their thing while fully engulfed in the suburban embrace. It was a sight to behold.
The crowd loved it, and so did the Sprockettes. Afterwards, they gave my nephews a few lessons in bike tricks. I think my 8-year old niece Bailey wants to be one when she grows up.
Hey, nice keg.
The next day we drove down to San Diego. I wasn't sure what to expect, but I knew their bike scene had some life because I'd just read a news article about their Critical Mass ride (it has grown to over 1,000 people, and unfortunately, also has the associated controversy that comes with it).
What I found in San Diego were not just signs of a grassroots riding/activism scene, but some of the same indicators of the bike revolution I've been reporting about here in Portland.
I saw a young, casually dressed couple riding double on a Dutch city bike (and, notably, without a helmet). I saw a family where the man had an Xtracycle with a very nicely done DIY child seat and his lady had a handmade mixte (it was a Japanese "Ebisu", from Jitensha Studio in Berkeley).
Continuing on my Portland-esque spottings, there was a guy who had removed the seat from his Xtracycle-equipped bike and sat on the snapdeck instead. This gave him a more relaxed seating arrangement. There was also a young boy riding a 20-inch bike pulling a Burley trailer behind.
The Sprockettes' big performance went over well. The crowd — many of whom have likely never seen a mini-bike dance troupe — were enthusiastic and gave the ladies a loud ovation.
It was the first stop ever for the Tour de Fat in San Diego, and they loudly proclaimed at the end of the day — after announcing they'd raised over $20,000 for two local bike non-profits — that they'll be back again next year.
After the Tour de Fat, The Sprockettes rolled over to the big fountain at Balboa Park for a rogue show (where they just turn up a speaker and dance for whoever's around). Drew Maccullough, a local bike activist, helped set up the show. I noticed him because he had on a BikePortland t-shirt! The dancing got started a bit late, but it turned out to be an epic show. The full moon floated behind the ladies and the crowd illuminated them with bike lights. The bike spirit was strong that night.
Check out these photos (snapped by my amazing photographer and brother Joel):
The next day we visited Chinatown in downtown Los Angeles. The first thing I noticed were the ornate crosswalks.
Chinatown's ornate crosswalks.
Stretching the limits of thermoplastic, the design alternates between bricks and dragons for a highly visible effect that gives people much more confidence when crossing the street. (I've noticed this same type of treatment in Milwaukie, but it's nowhere near as visible).
After Chinatown we ventured over to the L.A. Farmers Market and The Grove shopping center/complex. The Grove, like many new retail developments in L.A. and Orange County, mimics the promenade streets, outdoor cafes, and storefront facades you'd see in Europe. The Grove even has its own trolley that runs right down the middle of the street.
It was interesting to me that when retail developers want to build a fantasy world where people feel safe and comfortable enough to stroll and shop, they prohibit cars, install a streetcar, and make everything human-scaled. Of course, people loved this environment; they were relaxed and social.
But right outside the confines of this idyllic world, people sit in gridlock, shoppers squeeze onto sidewalks, cars, noise and fear rules the streets, and business owners scoff at human-centric development plans.
L.A. traffic.
I wonder if retail developments like The Grove discourage people from seeking those same conditions in other places near where they live and work. Are people O.K. with having to drive through a nightmare just to get to a little slice of heaven? One thing I know for sure is that The Grove would be fertile ground to recruit public support for traffic calming, bike boulevards, complete streets, and so on.
Unfortunately, my fantasies at The Grove were quickly brought back to reality when we sat in traffic forever on our drive back to the quiet confines of our subdivision.
If you have questions or feedback about this site or my work, feel free to contact me at @jonathan_maus on Twitter, via email at maus.jonathan@gmail.com, or phone/text at 503-706-8804. Also, if you read and appreciate this site, please become a supporter.