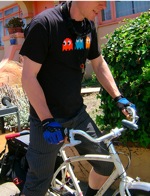 B. Spoke knickers in action
(Photo by B. Spoke Tailor)
Even with more sunny weather ahead of us in the forecast, it's impossible to escape the impending reality of the rainy season. Cool, rainy mornings last week had us delving into the backs of our closets for pants, long sleeve shirts, even jackets. And of course, wool.
Last winter we sang the praises of wool as a winter riding fabric, for the chic utility rider as well as for the performance minded sporty cyclist.
It seems that the bike industry is starting to catch on.
We've been receiving increasing mail from companies that appear to be targeting a demographic that perhaps got into cycling through racing bikes and who now use their bike for transportation and want to look good while riding hard and fast. One of these, Outlier, makes high-quality tight weave wool caps, marketing them as "tailored performance clothing for cycling in the city."
advertisement
On the other end of the spectrum, we have the vélocouturists (best exemplified through Patrick Barber's blog of the same name) and the apparel makers who hope to win their hearts.
Last winter, we mentioned a staple of vélocouture: knickerbockers, or trousers that come below the knee, for winter riding.
One of the original wool knicker makers with a cycling bent is Nan Eastep of B. Spoke Tailor (formerly known as Joyriders). Eastep works with customers all over the country to create custom, tailored knickers (see photos here).
B. Spoke is based out of the Bay Area, but will be in Portland this Sunday, Sept 13th for a 7:30pm fitting session hosted at a private home in SW Portland. The cost of the knickers is $175 plus shipping. If interested in attending the session, or to order knickers from elsewhere in the world, contact: nan at bspoketailor dot com.
Clever Cycles at SE 9th and Hawthorne has the largest selection we know about in town of fashionable clothes that work well for bike riding, from fitted, full-skirted dresses with a back cycling jersey-style pocket by Sheila Moon to a full line of Ibex wool outfits to a big wool blanket to wrap your baby in for nighttime bakfiets rides.
Another excellent local source for wool garb that can pass as outdoor gear or everyday wear is the Icebreaker store downtown (Icebreaker generously provided the gear for our coverage of Cycle Oregon next week).
Showers Pass's new Club Pants convert to knickers. (Photo by Showers Pass)
Showers Pass is coming out next month with a version of their club pants that converts to knickers.
We'll have a review up shortly of a couple of rain jackets marketed for urban utility riding, including the tweedy Portland from local business Showers Pass, and a sleek, more performance-oriented jacket from a new company called Cutter (which also makes wool jerseys and performance knickers).
It's interesting to see how the bicycle apparel industry is wrapping its mind around utility cycling. Much of the new gear billed for urban utility seems focused on performance — clothes that you can really work up a sweat in while hunched over the bars of a road bike, and that are designed to look sporty, aerodynamic, and tight fitting.
We'll likely see a lot more of that in coming years; hopefully joined by even more folks like B. Spoke, and like M-Horton designs (who we profiled earlier this year) who are making "regular" clothes that just happen to be designed with bicycle transportation in mind.