Posted by Elly Blue (Columnist) on August 5th, 2009 at 11:19 am
Yesterday morning we reported on the temporary closure of the Steel Bridge lower deck, a major walk and bike commute route, from early morning to around 2pm. Reader Scott Mizée (you may recognize his name from his advocacy work with npGreenway) sent us this shot of the closure on the east side.
Mizée said in his email:
I took this photo this morning on the way in to work and it demonstrates the conundrum cyclists were in as they made it from the scramble signal at Oregon Ave all the way down to the entrance to the top ramp before they realized they needed to turn around.
The picture shows the northernmost entrance to the Eastbank Esplanade, which is a major cycling commute route.
While the lower deck was still closed, Jonathan went out and took some shots of the Steel Bridge upper deck, including this one:
He says he saw many confused folks on bikes dangerously trying to navigate their way across the car lanes on the upper deck, including this guy who decided to ride against traffic to get to the other side of the bridge: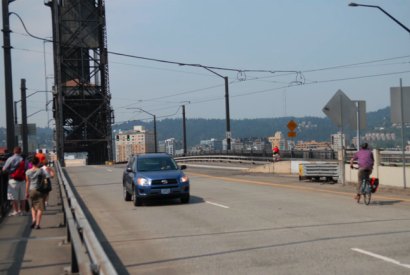 With the lower deck closed, this guy took to the upper deck…in, umm, not such a safe way.
And what's up with the local news crews? Several news vans were parked smack dab in the middle of the bikeway. They stayed there even after it was re-opened (to make the evening newscasts). The photo below shows how one group of riders had to weave their way around the vans to get onto the Esplanade: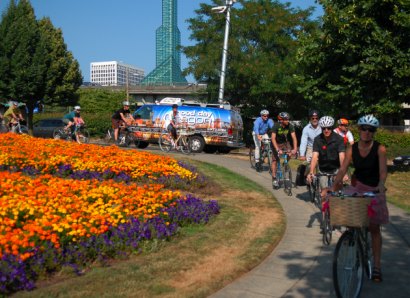 Does your morning commute take you through that area? What did you do to get around the closure yesterday?