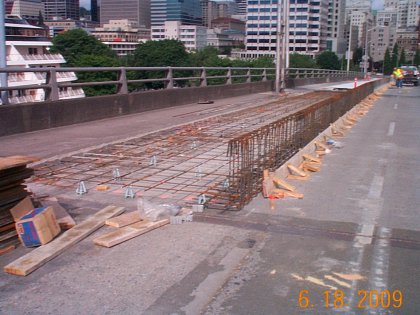 A look at the new lane for bike and foot traffic on the Morrison Bridge.
Multnomah County is about three and a half months into their project to improve the facilities for non-motorized traffic on the Morrison Bridge.
The $1.9 million will give people who bike and walk a 15-foot, dedicated path on the south side of the bridge. The path — which will carry bi-directional bike and foot traffic — will be separated from motorized traffic by a "crash-worthy" barrier.
The County issued an update on the project last week. According to officials, 75% of the new concrete sidewalks had been poured and most of the barrier had been completed.
On the east side of the bridge, crews have laid out a new ramp (separated from the I-5 freeway offramp). According to the County:
advertisement
"The new offramp and path will improve safety for bicyclists, pedestrians and motor vehicles, which will no longer face an awkward merge with traffic exiting the freeway."
And here's a photo of the new ramp (looking northwest from SE Water Ave.):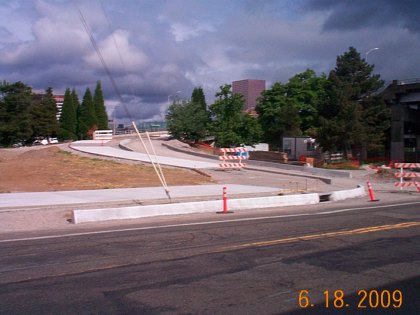 (Photo: Multnomah County)
The County hopes these improvements will alleviate bike and foot traffic congestion on the Hawthorne Bridge and they say we can expect completion of the project by the end of the year.
Learn more about this project on the County's website or by browsing our previous coverage.