Posted by Jonathan Maus (Publisher/Editor) on June 19th, 2009 at 2:10 pm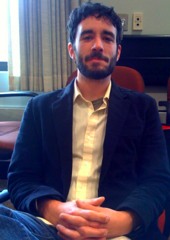 Ben Ramsdell in April.
(Photo by Elly Blue)
The Oregonian reported earlier this week that Ben Ramsdell, the man who was seriously injured after being intentionally run down by Johnny Escwheiler on SE Clinton nearly two years ago, will receive a $100,000 from Eschweiler's insurance company.
Escwheiler — who underwent a temporal lobotomy at age 25 — was found guilty except for insanity by a Multnomah County judge back in April.
The case has taken so long to resolve because Eschweiler has not cooperated with his own insurance company. Ramsdell's Lawyer Mark Ginsberg told The Oregonian that:
"Johnny has refused to talk to his own insurance company the whole time… "They couldn't do anything as long as he refused to cooperate."
advertisement
At the outset of the case, Eschweiler admitted he intentionally ran down Ramsdell (he also ran into another man, Timothy Mastne). That further complicated the case because intentional acts are not usually covered by liability policies.
Here's how The Oregonian explained it:
…when Multnomah County Circuit Judge Michael McShane found Escweiller guilty but insane, "intent no longer mattered," Ginsberg said, noting that the driver in effect didn't have the mental stability to know what he was doing.
Read more details in The Oregonian article. Browse our previous coverage of this story here.