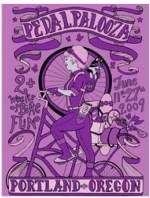 [Welcome to your daily Pedalpalooza rundown. We'll post each day's events and rides here, so you can plan, email them to your friends, etc…
See all our Pedalpalooza coverage here and follow the latest updates on Twitter.
Click ride title for full details… have fun out there!]

---
4:30am: The Ridiculously Early Donut Ride
That's right, 4:30am. Start at Voodoo Donuts downtown (22 SW 3rd) and ride over the west hills to Donut Day in Aloha.
8:00am: Monday MLK Commute
Meet for coffee at the Gold Rush at NE MLK and Russell at 8:00am; ride down MLK at 8:30.
Noon: Putt Putt Mini Golf
Tabor Hill Terrace Apartments, 6040 E Burnside St
Noon – 1:00pm: Building the London Cycle Network
Part of the PSU Transportation Seminar series — learn about the plan to build 900km of bike routes in London, from the project's manager. PSU – ITS Lab (Engineering 315), SW College St and 4th Ave
12:30pm: Romance Redux with the Dark Knight
Pedal between many of Portland's fragrant rose gardens for dramatic readings from the romance novels of your choice. Meet at Ladd's Circle.
3:30pm – 5:30pm: Psychogeographical "Tour" of Portland
A philosophical, Situationist-style ride, "incorporating game-like rules to guide us, breaking from motive or destination." Meet at Ladd's Circle!
5:45pm – 7:45pm: Big Girls Ride
Meet at the Vera Katz statue on the Eastbank Esplanade.
6:00pm: The Umpteenth Annual Taco Ride
Don't miss this Pedalpalooza tradition. Ben takes you to the best taco places around. Meet at Olé Olé, 2137 E Burnside.
6:15pm: The Dandy Warhols Ride
Ride along with members of the Dandy Warhols and a mobile sound system to sites of note in the band's history. Features stops for drinks, and a trivia contest with a fabulous prize. Meet at Ladd's Circle.
6:30pm – 8:30pm: Bike Touring Workshop
Want to go on a self-supporting bike tour but don't know where to start? Shawn Granton will walk you through the basics. Hawthorne Hostel, 3031 SE Hawthorne Blvd (Mt. Tabor Room)
6:30pm: Homo Bike to Skate
Ride to Gay Skate at Oaks Park. Roller disco attire. Meet at Vera Katz on the Esplanade.
7:00pm: Old French Bikes
Old bike geeks, bring your bikes and meet up at Petite Provence, 4834 SE Division St