Posted by Jonathan Maus (Publisher/Editor) on May 15th, 2009 at 11:47 am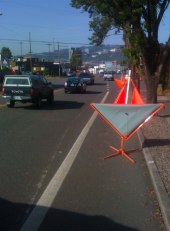 My view of NE Sandy
this morning.
(Photos © J. Maus)
On crowded Portland streets, where taking the lane isn't comfortable or necessary, people on bikes are usually expected to ride in a 4-5-foot wide bike lane. With cars speeding closely by on one side, and sometimes with cars parked just inches by on the other, I get pretty sensitive when something degrades the quality of that lane.
We've reported about various forms of bike lane disrespect in the past; from their use as loading/drop-off zones, the dangers of "door zones", to them being the permanent resting place of gravel. (Another big issue with Portland's bike lanes is the epidemic proportion of lanes where the paint stripe has been completely worn off…but that's a story for another day).

advertisement
Today on my way into work, riding happily down Sandy Blvd approaching SE Morrison, I experienced yet another form of bike lane disrespect — the oblivious placement of a road construction work sign (see photo above). I know many of you have come across this yourselves. For me, it's become sort of a personal pet peeve, and I'm beginning to wonder whether there are specific laws that might help encourage work crews to be more sensitive about this.
Here's another situation I documented over near the Rose Quarter last year. It was so egregious that I called it in and I'm happy to say it was quickly taken care of.
These signs forced people on bikes to veer into the other traffic lane. (In case you're not familiar, no one follows that right arrow onto the sidewalk, it was put there to give folks a more perpindicular approach to light rail tracks).
A related problem I have come across several times is construction sites bulging out into the bikeway. Check out this situation I documented on N. Williams (a very busy bikeway) back in 2006. I considered doing a story about this one, but first called the construction company. It took them a while, but they eventually shoved their fence back, away from the bike lane.
I realize that to some of you this will just sound like whining. That's fair. But my intention is to raise the issue and to see how others feel about it. I also know that the City of Portland has a highly responsive hotline to address these types issues, 823-CYCL (2923). But again, I feel like this is something worthy of broader awareness.
Do you have any experiences with signs and construction sites impacted the bike lane? Or should I just shut up and ride?