Posted by Jonathan Maus (Publisher/Editor) on April 29th, 2009 at 9:23 am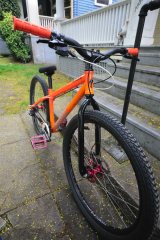 Stolen.
My friend Felix got his bike stolen last night and his experience might be a lesson for others.
Felix posted a listing to sell his bike on Craigslist. A man responded with interest (Felix says the phone number displayed as "unknown") and then showed up at Felix's house at about 9:00 pm last night to take it for a test ride.
Felix says the thief left his backpack as collateral and then left for a test ride. After about 10 minutes, Felix checked the backpack and found nothing but a blanket stuffed inside.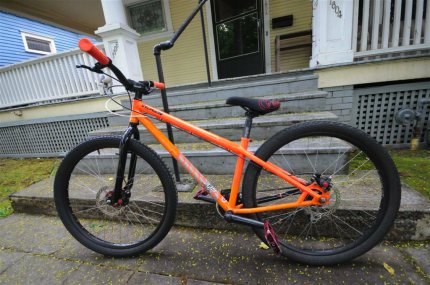 Be on this lookout for this uniquely customized Specialized P2 Cromo
advertisement
Now Felix is on an all-out manhunt for the thief and his bike. This should be a lesson to everyone to use caution and due diligence when dealing with a Craigslist transaction.
Now, since our Stolen Bike Listings aren't fixed yet (we're working on it!), here's the info on Felix's bike and more information about the thief. If you've seen either one, contact Felix immediately at felixzero@gmail.com or (503) 459-2673.
Bike details:
Specialized P2 Cromo
Bright orange bike
Purchased from Fat Tire Farm
Orange Oury grip
Black with red stitching Shadow Conspiracy seat
Dark red Odyssey pedals
Black Odyssey brake levers
Rigid black Kona P2 fork
Serial number: WUD706291388
(A police report has been filed)
Thief details:
Male with clean cut brown/blonde hair
Late 20s
Mild British acccent
Said his brother was a bike mechanic
Said he had a passport in the backpack
Jonathan Maus is BikePortland's editor, publisher and founder. Contact him at @jonathan_maus on Twitter, via email at maus.jonathan@gmail.com, or phone/text at 503-706-8804. Also, if you read and appreciate this site, please become a supporter.