Posted by Jonathan Maus (Publisher/Editor) on January 2nd, 2009 at 10:34 pm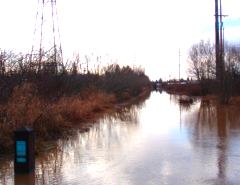 First we had an insane snow and ice storm and now I hear that the Portland region is being pelted with record rain.
A few hours ago, reader John P. sent me this photo of the Springwater Corridor
Trail (at mile marker 10.5) along with this comment:
"The cool thing about riding it right now… there's so much oil and crap floating on the water you don't have to worry about oiling your chain later."

What's it like up there? Please don't hate me, but I'm typing this from the warm and dry confines of Orange County, California. (I'll be back on Monday. If the Portland weather has got you down, check out my photo gallery from California (actually that might just depress you more).)
Seriously though, rain or no rain, it's the first weekend of 2009 and I hope many of you have plans to ride. (I was happy to read a nice article in the Oregonian about the BTA's annual New Year's Day Ride.)
I've ridden a few times down here in Cypress, California and I'm headed out again tomorrow morning (a ride to the beach with a friend from high school).
Please use this post to share your bike plans for the weekend. How are you doing with the harsh winter weather so far? Have you hung up the bike and hit the bus/train? Or are you toughing it out?
How are the conditions up there? Has all the debris and gravel been cleaned up from the bike lanes? Are you thinking of buying a paddle for your commute?