Alice's ghost bike at 20th and R Street in Washington, DC (Photos by Elly Blue)
On Saturday, my sister and I spent the day walking around DC and saw an astonishing number of bicycles.
Including a ghost bike that marks the spot where Alice Swanson was hit.
I'd heard about this already — both my sister and a friend of hers had separately told me that they are reluctant to ride in DC in part because of the death this summer of a 22 year old woman in the Dupont Circle area.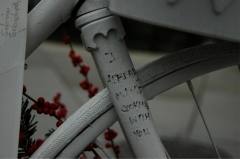 Alice Swanson was struck by a garbage truck on July 8, 2008 at 7:40am as she was riding her bike to work. The truck driver struck Swanson when he turned right across the bike lane which she was using.
According to the Washington Post, Swanson was not an experienced bike commuter. Coworkers recall her nervousness about riding on DC streets.
The intersection where Alice was killed
Looking at this intersection as a regular bike rider, I would say that this is a deceptively dangerous one. It is the meeting of six busy, high speed cross-streets with car lanes, bike lanes, and crosswalks all at cross-purposes to each other. One local blogger has an account of a near-miss occurring in September at exactly the same place. This intersection — and the many like it near Dupont Circle — desperately needs to be redesigned.
In Portland last October when two young people were killed in as many weeks in similar "right hook" situations, politicians as well as advocates were galvanized to make permanent changes in the direction of the city's bicycle infrastructure.
I've emailed someone at the Washington Area Bicyclist Association to find out more about legal, policy, and advocacy outcomes of this tragedy, and will share their response when it comes.
Elly Blue has been writing about bicycling and carfree issues for BikePortland.org since 2006. Find her at http://takingthelane.com