Last month I cleaned out the bikes from my basement. As I took them down from their hooks and carried them to their new home (a shed in the backyard), I heard voices in my head recounting the memories and stories behind each one.

There's my Co-Motion Ristretto road bike:
I bought this in about 2003 (when I still lived in California), long after my prime racing days had passed — but still with hope that I might train and race again. It's a lightweight, high-performance machine. Full aluminum with a carbon fork and all the high-end bits. It was built by my friends in Eugene and it's the first (and only) custom bike I own.
Then there's this old Schwinn Collegiate 3-speed:
I have a major soft spot for old Schwinns. My stepdad bought this one off Craigslist so he'd have something to ride when he came to town. I liked it so much though, that it was my main bike for a while (notice the decorations on the front wheel from a bike parade a few summers ago). But, like two other bikes in my basement, the 3-speed is kaput and I haven't fixed it.
Speaking of old Schwinns with broken 3-speeds, here's my other one: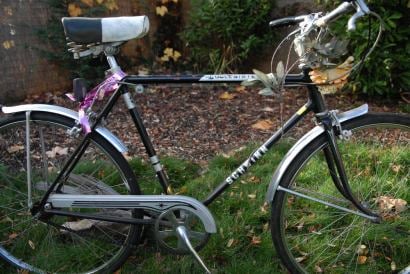 This is also a Collegiate in very good condition that I scored from a thrift store in Grants Pass Oregon while visiting my dad. I love the stylish fenders and the pinstriping on the chain guard. It rode like a dream until the Sturmey-Archer shifter died (I've also stripped one of the pedal threads).
And here's my nifty Gary Fisher city bike:
I bought this used from Veloshop downtown when I first moved to Portland. It was a good deal for a fully-equipped city bike and with the small frame and long seatpost, it actually sort of fits both Juli and I (even though she's a foot shorter than I am).
Another race machine, my Kona Major Jake cyclocross bike:
This beauty from Sellwood Cycle Repair (thanks Erik!) served me well in the 2007 'cross season. I raced several Crusades with it (even managed to win one of them). Unfortunately it sat unused for the 2008 season but it's still ready to race at a moment's notice.
And from my other friends in Eugene, my Bike Friday Tikit:
This foldable rig has been through everything from security checkpoints on Capitol Hill to being stuffed into a locker at a museum. I've taken it on several airplane trips, assembling it James Bond style in the airport as curious onlookers stare.
And last but not least is the Puch:
A friend of mine (thanks Greg) let me take ownership of this after he couldn't resist the price on Craigslist. It's a classic Puch city bike straight from Austria. I rode it out to Sauvie Island once for a 'cross race. But eventually (you know what's coming), the 3-speed broke and I haven't fixed it.
So, I imagine you've learned a bit about me from these bikes (for one, I am mechanically inept). Now, I would love to hear about the bikes in your basement. Feel free to share photos and stories in the comments below.

[Note: To insert an image into a comment, just type <img src="http://yourimageURL.jpg">. Please make sure photos are sized at 350 pixels wide or less. You can also upload the photos to Flickr and put them in our BikePortland Photographers Pool. Thanks.]