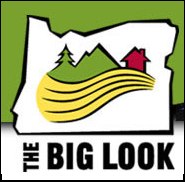 The Big Look is Oregon's
effort to review statewide
land-use planning laws.
Oregon's Big Look Task Force was appointed by the governor and legislature in 2005 with a mission to review Oregon's statewide land-use program. A major part of that group's effort is to travel the state and hear testimony from Oregonians on how our state should grow.
Oregon's strict land-use laws are generally lauded for encouraging compact growth and preserving rural areas from sprawl.
"In my opinion, this is perhaps the most important event for bicyclists in Portland to attend this year if we want to ensure a bike-friendly future."
— Reed College student Joel Batterman on tonight's Big Look town hall meeting
Tonight in Portland, the Big Look Task Force holds their second of ten Town Hall Meetings to garner feedback that will help them shape the recommendations they will present to the Oregon Legislature in 2009.
Joel Batterman is a junior at Reed College and a member of Greenboard, the student environmental group. He has also worked as an intern for 1000 Friends of Oregon (a non-profit land-use planning watchdog) where he wrote a report on the connection between land-use, transportation, and climate change.
Batterman says tonight's meeting is "perhaps the most important event for bicyclists in Portland to attend this year if we want to ensure a bike-friendly future." In an email informing me about The Big Look, he wrote:
"Bike-specific infrastructure is great, but for biking to be practical, you need more than just bike lanes. You could outfit a sprawling city like Las Vegas with Copenhagen-class bike infrastructure, and you still wouldn't see too much biking, simply because places are too far apart… For bicycling to be practical as a means of everyday transportation, you need destinations to be reasonably close together."
Batterman says some of the proposals being considered by the Big Look Task Force would weaken Oregon's land-use planning laws. He feels those laws are a key part of why Portland has developed into such a livable city where residents have transportation choices and he wants more people who care about bicycling to make their voices heard.
Mike Houck
(Photo © J. Maus)
Mike Houck, Executive Director of the Urban Greenspaces Institute, says that,
"While it may not be readily apparent to the cycling community why the Big Looks is a very big deal, what the Big Look Task Force recommends will directly effect your quality of life."
Houck wants an improved planning program to,
"ensure that urbanites be no more than a fifteen minute walk from parks and trail networks that provide cyclists and pedestrians both recreational opportunities and an alternative to driving."
What do you want? How do you think Portland and other Oregon cities should grow?
Learn more about The Big Look and offer your opinions at the Town Hall Meeting tonight in North Portland and check out OregonBigLook.org.