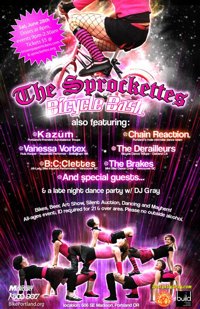 Poster for the Sprockettes Bicycle Bash.
Portland's Sprockettes — an all-female mini-bike dance crew — are all set to host bike dance troupes from all over the West Coast at their upcoming "Bicycle Bash".
The big party will follow the Multnomah County Bike Fair this Saturday (6/28) and will feature a prize giveaway, a silent auction (items include a custom, pink-and-black Chris King headset), an art show, bike films and photos on projectors, beer, a DJ'd dance party, and a bunch of live performances.
The event has been granted a street closure on SE 6th between Madison and Hawthorne and the Cyclecide Heavy Pedal Bike Rodeo will be coming up from San Francisco with their pedal-powered ferris wheel and other contraptions for your bikey amusement.
Among the performers are four bike dance groups; the B:C:Clettes, The Brakes (both from Vancouver, Canada), Chain Reaction (from Portland), and The Derailleurs (from Oakland, CA).
The B:C:Clettes are a "bicycle-inspired performance group" from Vancouver, BC. These lovely ladies in black-and-red started dancing after they saw the Sprockettes perform in 2005. Now the B:C:Clettes are "bringing sexy back" as they gear up for their 'Wheely Fun' bike tour of Canada that kicks off in late July.
The B:C:Clettes during a performance on
NE Alberta St. last summer.
(Photo © J. Maus)
The Brakes are another dance crew from Vancouver. These guys wowed audiences at last year's Multnomah County Bike Fair (see photo below) with their fun mix of energetic moves and bike stunts.
The Brakes during a performance
in Vancouver last summer.
(Photo © J. Maus)
Chain Reaction is Portland's answer to The Brakes. I introduced you to them a few weeks ago and I'm looking forward to seeing what they do next. Word on the street is that they'll be debuting some new routines and tricks on Saturday.
Members of Chain Reaction during a
performance near PSU a few weeks ago.
(Photo © J. Maus)
The Derailleurs were sparked by former Sprockette Eliza Sprack. She moved to Oakland last fall and wasted no time in bringing together a hot group of talented ladies.
The Derailleurs performing in San Francisco.
(Photo courtesy of The Derailleurs)
This is one party you will not want to miss!
The Sprockettes Bicycle Bash
Saturday, 6/28
Doors at 8pm, events from 9pm – 2:30am
606 SE Madison (Organics to You)
Tickets are $5 and can be pre-ordered here.