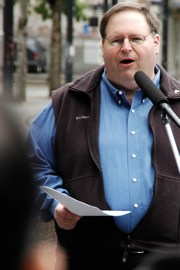 Devoted bike advocate and transportation
guru Chris Smith will take part in
a City Club debate tomorrow.
(Photo © J. Maus)
You've got some important choices to make in this election, so why not wait a few days before making up your mind?
Tomorrow is the big City Club debate featuring the six candidates vying for City Commissioner Seat #1 (that's the race with Fritz, Smith, Bissonnette, Branam, Fahey, and Lewis — all solid candidates), and I've got thoughts and notes I'd like to share about them as well.
Also, in a few minutes I'm sitting down with mayoral hopeful Sho Dozono. I'll ask him to share his thoughts on how he'll work to make Portland equal to Amsterdam — a claim he made in a televised debate last month.
So, if you care about bike-related issues, hold on to those ballots for a few more days… and stay tuned…