Posted by Jonathan Maus (Publisher/Editor) on February 4th, 2008 at 12:11 pm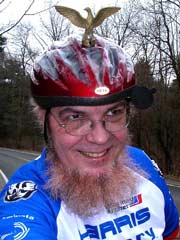 Sheldon Brown
(1944-2008)
I just heard the news that Sheldon Brown passed away last night from a heart attack.
Brown was something of a living legend, known mostly for his website that was packed with vast amounts of bike information.
Back when I worked for Old Man Mountain racks in Santa Barbara, I connected with Brown via email and phone. I had sent him a pair of our pannier racks, and I was eager to hear his thoughts on them.
Brown was a fixture in the bike industry and known to millions of web surfers for his knowledgeable opinion on topics like fixed gears, gear ratios, vintage parts, and a myriad of other topics.
He was also a brilliant humorist whose April Fool's Day articles were widely adored.
One of the first resources I would peruse when I started doing web research many years ago was his comprehensive list of bike-related links.
Here's the message about his passing as posted to SheldonBrown.com:
"Dear…friends and customers,
It is with heavy hearts that we convey to you the news that Sheldon Brown has passed away. Our thoughts go out to his family at this time. The cycling community has lost one of it's most passionate members."