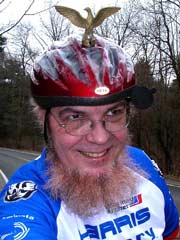 Sheldon Brown
(1944-2008)
I just heard the news that Sheldon Brown passed away last night from a heart attack.
Brown was something of a living legend, known mostly for his website that was packed with vast amounts of bike information.
Back when I worked for Old Man Mountain racks in Santa Barbara, I connected with Brown via email and phone. I had sent him a pair of our pannier racks, and I was eager to hear his thoughts on them.