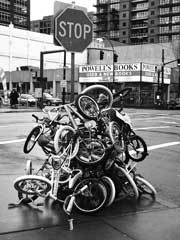 The Pyle, at its current
location on SW 9th.
(Photos © Jonathan Maus)
Even though it's been over a year since Zoobombers first met with PDOT about it, the process to integrate the iconic mound of mini-bikes known as the Zoobomb Pyle into a piece of official public art is now moving along quickly.
After the announcement of the project in October, the Regional Arts and Culture Council (RACC) received 14 applications from local artists hoping to build a new rack for the beloved cluster of mini-bikes.
The bikes are maintained by a group of Portlanders who like to take them on the MAX train to Washington Park and then "Zoobomb" down the steep and windy streets of the West Hills every Sunday night.
The 14 applications were narrowed down to three by an ad hoc panel made up of regular Zoobombers, artists, PDOT staff, and the owner of an American Apparel store in downtown Portland located adjacent to where the rack will be placed (W. Burnside and Stark). Their three selections were also approved by the official Public Art Advisory Board, which advises the RACC on all public art projects.
The finalists for the project — all accomplished and well-known local artists — are; Matt Cartwright; Brian Borrello and Vanessa Renwick; and Jason Seale.
A design proposed last year.
Kristin Calhoun, public art manager for the RACC says she plans to schedule interviews with each artist in the coming weeks and hopes to make a selection before January.
Calhoun says this project is a bit "uncommon" compared to others she has been involved with. She adds that, "It's an exciting project, but it's unusual for us to work on a piece that involves something like these bikes."
She's also a bit surprised that the artists have already begun getting to know Zoobombers.
All three artists have recently participated in a Zoobomb run (an essential step if they want to be seriously considered for the project) and their previous works and full applications are currently on public view in the active Zoobomb Forums.
Calhoun says engaging with Zoobombers prior to being officially interviewed is not a big deal, just a bit out of sequence. "It's fine really, but I just want everyone to remember that this is about the artwork, not just a popularity contest."
True Zoobomb spirit.
Carl Larson, who is among three who have accepted the difficult role of representing the Zoobombers (many of whom are skeptical of anyone who tries to make decisions for the amorphous group), says it's vital that all Zoobombers feel they have input in this process.
He also wants to keep the process moving along; "We've had a lot of discussion on the Forums and up on the hill about the artists and we've recently met them in person…we're excited about moving on and we hope to keep the momentum going."
Larson recently posted a message in the Forums that given the relatively small budget for this project ($10,000), he thinks Zoobomb is lucky to have such qualified artists who want the job. "It means they're really eager to work with us and they're willing to set aside more lucrative jobs to do it."
"Whoever we end up working with," he told me yesterday, "has to be someone that can not only create the piece, but who can work well with us."
To view previous work, learn more, and read the Zoobomber's feedback on each artist, here are links to their posts on the Zoobomb Forums: