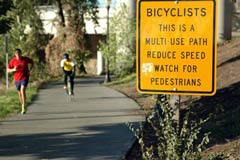 (File photo)
The Transportation Options division within PDOT is taking a proactive approach to promote courtesy between users of crowded paths like the Eastbank Esplanade and the Hawthorne Bridge.
They've planned a series of events designed to,
"Raise awareness, encourage courtesy, and promote harmony on bicycle and pedestrian paths."
The campaign kicks off this Thursday with a Bicycle Bell Giveaway, which will build on the success of a similar event back in May.
Here's the schedule:
Bicycle Bell Giveaway
Thursday, July 19, 7 – 9 am
Bike Gallery staff will install free bike bells on the Hawthorne Bridge to encourage cyclists to use an audible warning before passing.
Bicycle Brown Bag (special field trip edition)
Thursday, July 19, noon – 1 pm
presented by PDOT, Transportation Options Division
Meet at the Portland Building, ride to Eastbank Esplanade to observe and discuss issues for cyclists and pedestrians sharing off-street paths; brainstorm ways to encourage courtesy & respect among all users. Review the new Share the Path brochure, produced by PDOT and Portland Parks.
Raising Awareness on the Esplanade
Saturday, July 21, 10 am – noon
(Presented by the BTA and Transportation Options, with support from River City Bicycles; additional support from Staccato Gelato)
Staff and volunteers from the BTA and Transportation Options will distribute the the new Share the Path brochure.
Bells will be installed on bikes for free, to encourage using audible warnings when passing.
Burma-Shave style signs and walking billboards will highlight the need to be aware of other users and use "trail smarts".
Tokens for Staccato Gelato ice cream will be distributed to trail users showing courtesy (the Freezy Rider will be present on the Esplanade for instant gratification)
Wondering how you can be more courteous on the paths? Here are some tips from PDOT:
use audible warnings
respect others' right-of-way
stay to the right
leave space for others to pass