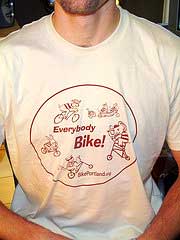 Just picked them up yesterday. They look super cool. The print came out very clean and the "sienna brown" ink looks great with the natural organic cotton fabric. I'm glad I went with American Apparel shirts because they're amazingly comfy and quite nice feeling. Find out more on my Stuff page.
Remember, $1 from each shirt goes to Shift and the rest helps to support this site!
I tried to get Bill Sinnott to model one for me yesterday but it didn't happen.

For everyone who has pre-ordered and paid, I'll be shipping yours out ASAP. And for the rest of you, I've still got every size available. I set up PayPal so you can buy one online with a credit card or your PayPal account. Or, if you'd rather send a check or stop by my BikePortland.org headquarters and pick one up that's cool too.
Stay tuned for a recap of my meeting with Bill Sinnott, news from last night's PBAC (Portland Bike Advisory Committee) meeting and more!