Posted by Michael Andersen (News Editor) on January 15th, 2014 at 3:30 pm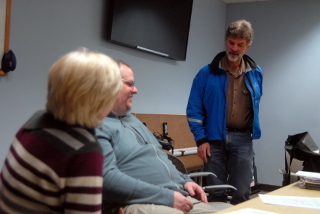 Three members of PBOT's standing Budget
Advisory Committee Tuesday.
(Photo by M.Andersen/BikePortland)
Portland voters could decide as soon as November whether to approve a per-household and per-business fee that budget committee member David Hampsten said would raise about $25 million a year for street upgrades.
Alternatively, the proposal to pay for transportation infrastructure might simply be approved by the city council after extensive public outreach, a citizen committee member said Tuesday.
With that in mind, Transportation Commissioner Steve Novick and Mayor Charlie Hales have created a new committee of stakeholders expected to vet the plan and, over the coming months, help persuade the city of its merits.
"It's a sales team," Steph Routh, a member of the new "Transportation Needs and Funding Advisory Committee," said last week.
The city says its aging street network is badly in need of maintenance, with $1.5 billion required just to clear the maintenance backlog for the city's $15 billion transportation system. Novick also frequently mentions the importance of better sidewalk and crossing improvements in East Portland, including them in a $1.3 billion wish list shared with the media last month.
In a potentially related effort, the city is preparing an online community survey intended to gather a sense East Portlanders' top priority. There's a meeting about the multi-lingual survey, expected to be usable on a range of phones and devices, 10 a.m. tomorrow at the East Portland Neighborhood Office, 1017 Northeast 117th Avenue.
Email This Post