Posted by Jonathan Maus (Publisher/Editor) on November 21st, 2013 at 11:18 am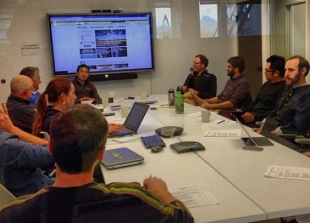 First meeting of the Oregon Gravel Riding
Working Group.
(Photo by Kristin Dahl/Travel Oregon)
In the latest sign that gravel road riding is poised to be the Next Big Thing in cycling (just wait until you see how many major bike brands will offer "gravel bikes" in 2014), Travel Oregon (a.k.a. the Oregon Tourism Commission) convened an official working group yesterday to, "Create a strategy for promoting and further developing Oregon gravel riding network."
As we've shared on a few occasions, Oregon is full of amazing unpaved roads through farms and forests that only a handful of people have ever pedaled on. Therein lies the potential of gravel riding (which is really nothing more than riding on unimproved/unpaved roads): It opens up hundreds of miles of new route options and adventures in every corner of the state.

Yesterday's meeting at Travel Oregon's downtown Portland headquarters was led by two of their bicycle tourism development staffers and it attracted a who's-who of bike ride promoters and gravel riding believers. Around the table were: race promoter Steve Cash of Dark 30 Sports; Cross Crusade founder and BTA Board Member Rick Potestio, Oregon Bicycle Racing Association Executive Director (among other things) Kenji Sugahara; race promoter and president of Team Oregon Cycling Club Jim Anderson; gravel riding veteran Dan Morgan; VeloDirt founder Donnie Kolb; bicycle tourism advocate and Path Less Pedaled founder Russ Roca; Ben Schultz of Heartstrings Cycling; Chris King Precision Components Marketing Manager Dylan VanWeelden and endurance racing veteran and past winner of Trans-Iowa Joe Partridge. (Disclosure: I'm participating in this working group as a volunteer stakeholder, not as a member of the media.)
With strong interest from this dedicated and experienced group, along with agency support from Travel Oregon, Oregon State Parks, and other partners eager to develop this untapped riding resource, the ultimate goal is to create Oregon's first officially sanctioned State Scenic Bikeway that's almost entirely routed on gravel/unimproved roads.
Some of the discussion yesterday centered around how to handle legal issues these roads might present. Many of Oregon's gravel roads cross logging roads owned by timber companies, while others wind through wilderness and criss-cross lands managed by a host of county, state, and federal agencies. It was made clear that this group will focus only on routes that use publicly-owned roads and/or roads that are explicitly permitted by landowners for public use. We all agreed that outreach to private landowners and other land managers will be important.
In eastern Oregon, big skies and (relatively) carfree roads
are just two of the gravel riding's many pleasures.
(Photo by J. Maus/BikePortland)
The group also decided yesterday that the first course of action is to collect existing route data and compile a catalog of the state's best gravel road routes. Members of the working group have already started submitting their favorite rides. Many of the routes will also be posted to Travel Oregon's RideOregonRide.com website so anyone can learn about them and set their own course for adventure. Then, later in the process, a selection of these rides will go through a stringent vetting process (much like the process that already exists for the Scenic Bikeway program) and be considered as official State Scenic Bikeways.
Other goals discussed by the group include a signage system for these off-highway routes similar to what exists in the Dutch countryside and an education and outreach plan for rural residents and landowners along the routes.
This effort is just getting underway and there's a lot of work to do; but it's exciting to know that Travel Oregon is already taking the lead. Gravel riding could be a huge boon to Oregon tourism, helping attract even more people to our state's many struggling (yet extremely charming) rural towns while offering a whole new style of for bike lovers near and far.
Email This Post
Possibly related posts