Posted by Michael Andersen (News Editor) on September 9th, 2013 at 4:18 pm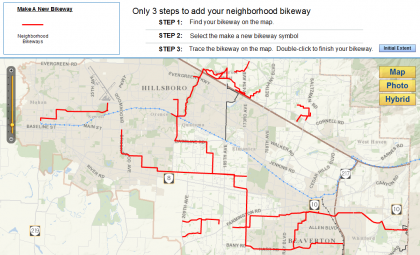 Washington County's map in progress.
Bicycle boulevards, neighborhood greenways — whatever you call them, the low-traffic streets marked by sharrows and low-stress crossings are one of the best things about Portland's bike network.
Now, Washington County is preparing a map of what it's calling "neighborhood bikeways," and looking for the public's help. A new interactive map invites people to submit their preferred bike routes across the metro area's west side to help inform planners about the best possible paths.
This is a challenging task in Portland's suburbs. Most of our region's surburban land was developed with the assumption that gridded streets are bad, because they allow people to improvise routes rather than navigating via big arterials. It's only recently that more cities have realized that cul-de-sacs increase auto dependence by making bike and foot transportation less convenient.
Email This Post