odot traffic safety division
by Jonathan Maus (Publisher/Editor) on June 15th, 2021 at 10:46 am
by Jonathan Maus (Publisher/Editor) on October 25th, 2011 at 11:46 am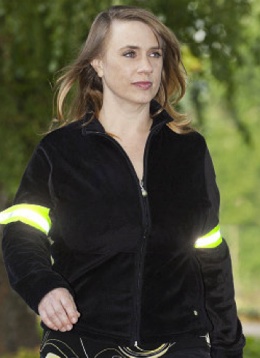 New arm bands being given away by
ODOT to help remedy uptick
in fatalities.
(Photo: ODOT)
As reported by The Oregonian this morning, the Oregon Department of Transportation has launched a traffic safety campaign. Under the 'See and be seen' banner, ODOT's effort is aimed squarely at what they see as a major problem on Oregon's roads — people who walk in the evening and at night while wearing dark clothing.
"Dark colored clothing and coats may look chic, but at night or on cloudy days, they can make pedestrians almost invisible," reads the opening paragraph of the ODOT statement, "Every year in Oregon, the majority of pedestrian fatalities occur at night or in low-light hours. In 2010, 74 percent of the fatal pedestrian crashes occurred during low-light conditions. More than half of the pedestrians killed were wearing dark clothing and were not visible."
To help people stay safe, ODOT's Transportation Safety Division (a division with a $48.7 million annual budget) is giving away "reflective safety sashes and arm bands that people can wear over their clothes." ODOT has teamed up with community groups to distribute the new safety accessories.
[Read more…]
by Jonathan Maus (Publisher/Editor) on November 22nd, 2010 at 3:34 pm
ODOT Traffic Safety Division
Manager Troy Costales.
Troy Costales is the Traffic Safety Division Manager for the Oregon Department of Transportation (ODOT). In that position, he oversees about $28 million per year in a variety of programs to decrease the amount of fatal and injury crashes on Oregon roads. Costales was also on the committee put together by the Transportation Research Board to find out why the United States continues to lag behind other countries when it comes to saving lives. The TRB issued a report on their findings last week.
With recent national attention on road safety and with last week's launch of a new safety campaign for high-speed roads (many of them under the jurisdiction of ODOT), I've been taking a closer look at ODOT's traffic safety efforts. As part of my research, I did a phone interview with Costales last Thursday. Read parts of that conversation below…[Read more…]