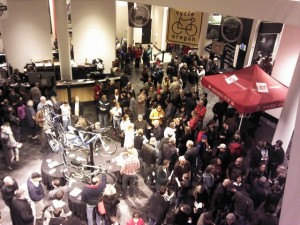 Riders gather in the Tiger Woods Center
before the route announcement.
(Photo: Will Vanlue/BikePortland)
This evening a group of roughly 700 people joined Cycle Oregon staff and volunteers at the Tiger Woods Center on the Nike campus in Beaverton to hear where the two Cycle Oregon rides are headed in 2012.
Everyone was excited to hear this year's routes (for both the weekend and week rides) but the real surprise was an announcement by Cycle Oregon co-founder Jonathan Nicholas about a really big idea the organization has been working on.