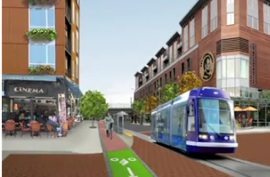 Screen grab from new PBOT video about
Clinton to the River project.
The City of Portland Bureau of Transportation (PBOT) is pushing hard to win a $1.9 million federal grant to fund the Clinton to the River Multi-Use Path. To encourage supportive public comments on the project (that can be made online), and to make the case to the Oregon Department of Transportation (ODOT) that the project should be selected, they've released a new video touting its safety and livability benefits.
The project would create about a half-mile of a multi-use path and bike boulevard connection "to complete a seamless 2.8-mile bicycle route adjacent to the Portland-Milwaukie light rail alignment".