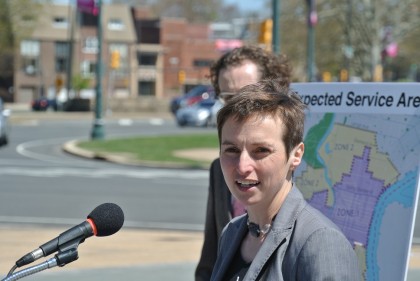 Former Alta Bicycle Share president Alison Cohen, CEO
of Bicycle Transit Systems, spoke in Philadelphia Thursday.
(Photo: Bicycle Transit Systems)
A bike share operations startup founded by five ex-Alta Bicycle Share employees, three of them based in Portland, scored a major new contract Thursday.
Bicycle Transit Systems, which like its CEO Alison Cohen is headquartered in Philadelphia, will operate that city's bike share system, which is scheduled to launch in spring 2015 with at least 600 stations.
It's the first time in years that Portland-based Alta Bicycle Share, the market leader and operator of the popular systems in Washington DC, Boston, New York City and Chicago, has missed out on such a big new contract.