A man riding a bicycle was killed this morning. Police say the man was involved in a collision with someone driving a sedan on SE Flavel near 78th.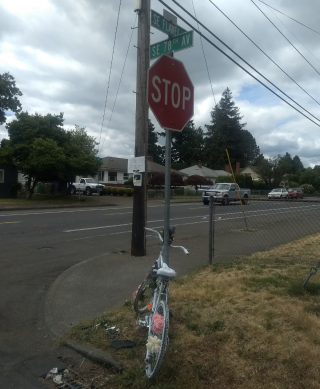 Not many details are known at this point. Below is the police statement:
On Sunday, June 23, 2019, at 3:32 a.m., East Precinct officers responded to the area of Southeast Flavel Street and Southeast 79th Avenue on a report of a person injured in a crash involving a sedan. Portland Fire medics arrived and determined the injured adult male was deceased at the scene.

Preliminary information indicates the male was riding a bicycle and was struck by the sedan. The driver of the sedan remained at the scene and is cooperating with investigators.

The Portland Police Bureau's Major Crash Team is responding to assume the investigation.

Southeast Flavel Street is closed from 77-80th Avenues and is expected to remain so for several hours while the investigators conduct the investigation.

If anyone has information about this incident, please call the non-emergency dispatch at (503) 823-3333.

After the deceased is identified and next of kin are notified, his identity will be released.
This location is just a few blocks from where Lydia Johnson was killed in 2016. And another woman, Pamela Seidel, was killed in this area (SE Henderson and 82nd) while biking in October 2018.
This intersection is also part of the route of the forthcoming Seventies Neighborhood Greenway. That project was funded a year ago and is currently still in the planning stages.
In reply to our post about the crash on Twitter this morning, reader Gerik Kransky said, "This is deeply unsettling." "I ride my bike through here on a regular basis. It's within a mile of my home and I want to see some physical protection for people who ride bikes on SE Flavel."
Matchu Williams, an advocate for better transportation in this neighborhood who co-wrote a BikePortland article about gaps in southeast Portland infrastructure last summer, said the lack of protected spaces for vulnerable users is, "a public safety crisis." "Our most vulnerable community members are repeatedly being killed as a result of unsafe behaviors and missing, safer infrastructure. The street designs offer no protection to the people that need it most in an area that has little political clout to affect change with city, state, and county officials."
This is the second fatality of a bicycle rider in 2019.
Stay tuned for updates as more information becomes available.
UPDATE, 5:13pm 6/23: Police have arrested the driver in this collision. Here's their latest statement:
The Portland Police Bureau's Major Crash Team continues to investigate the fatal crash from earlier this morning. Investigators arrested 21 year-old Nicholas P. Martinez, the driver of the involved sedan (PHOTO).

Martinez was charged with Manslaughter II, Reckless Driving, and DUII (alcohol). He was lodged at the Multnomah County Detention Center. There is no there other information for release at this time.
UPDATE, 6/25 at 1:27pm: Portland Police have identified the victim as 32-year-old Lance T. Hart.
— Jonathan Maus: (503) 706-8804, @jonathan_maus on Twitter and jonathan@bikeportland.org
se

Never miss a story. Sign-up for the daily BP Headlines email.
BikePortland needs your support.