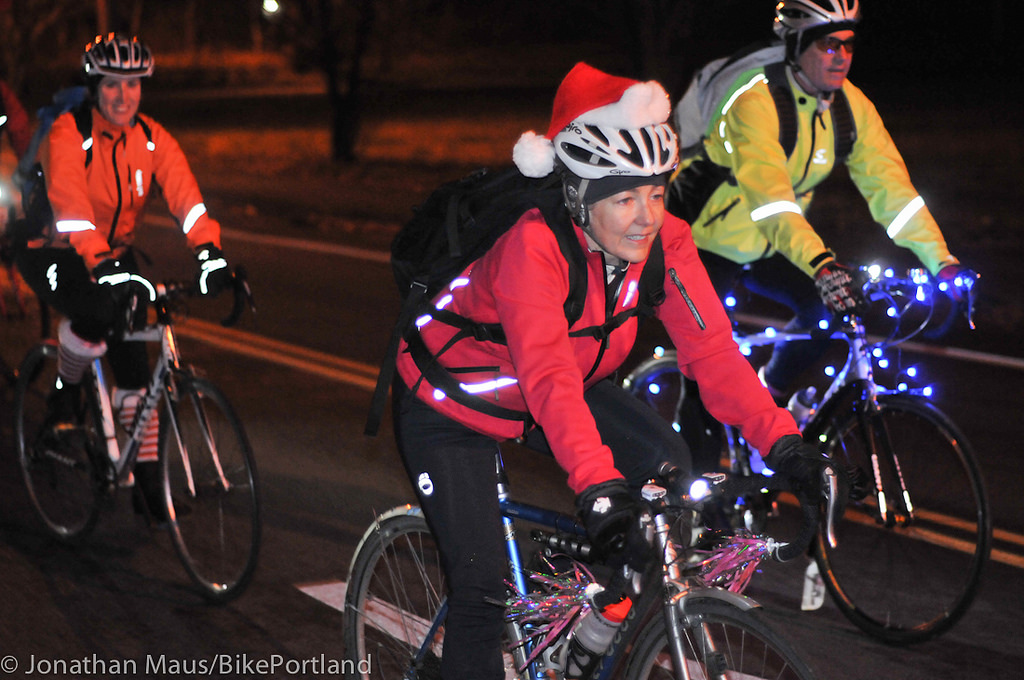 Time to make plans for the weekend. There's so much to do among our wonderful community of fellow bike lovers that you shouldn't let the cold and dark keep you from joining in the fun.
(Please note: We're looking for a sponsor of this weekly feature and the BP Calendar. It's a great opportunity for a company that wants to get valuable exposure, support our community, and support BikePortland! Please contact me if interested. jonathan@bikeportland.org*)
Friday, December 7th
Bike Ride to Fremont Holiday Fest – 5:30 pm to 7:30 pm at Salmon Street Fountain (SW)
Get into the spirit of the holiday by taking the long way home after work. This ride will go from downtown to northeast to soak up the Fremont Street Holiday Fest which will feature holiday crafts, games, carolers, Santa Claus, and more! More info here.
Saturday, December 8th
***BP PICK!!!*** Ruckus Composites Warehouse Sale – 10:00 am to 3:00 pm at Ruckus HQ (SE)
Beloved local carbon fiber repair shop will offer top-end frames at great prices. Check official event page for current inventory. Remember to tell them you heard about it on BikePortland! More info here.
North Plains Gravel Ride – 10:00 am to 3:00 pm in North Plains (Wash Co)
A group of unpaved road lovers will meet in North Plains for a 35-mile jaunt in the hills west of Banks. More info here.
Leisure League CX Social – 5:00 pm to 10:00 pm at Golden Pliers Bike Shop (N)
With cyclocross season officially over, Golden Pliers and friends will host what looks to be a wonderful get together featuring tattoos, pizza, a big prize raffle (to benefit Community Cycling Center), and World Cup CX viewing. More info here.
Sunday, December 9th
KimmyCross18 – 11:30 am to 4:00 pm at The BeerMongers (SE)
This annual race is dedicated to Kim Matheson, one of the founding members of the BeerMongers Cycle Club who died unexpectedly of skin cancer in 2014.. Expect a "fly by the seat of your pants checkpoint race around the city." You'll get a list of tasks you must complete. Run whatcha' brung! $10 suggested donation for the Melanoma Foundation. More info here.
***BP PICK!!!*** North Portland BikeWorks Winter Formal Sale – 12:00 pm to 4:00 pm at North Portland BikeWorks (N)
This bike shop on Mississippi St is having a blowout sale and if you dress in "formal" attire you can get 25% off anything in the store – including bikes! Be sure to stop by and check their goods. And tell them you saw their ad on BikePortland. More info here.
Corvidae Bike Club Toy Drive – 2:00 pm to 5:00 pm at Peninsula Park Rose Garden (N)
Our friends from Corvidae will meet and do a short ride to Kenton Station to deliver toys for their toy drive. An easy and fun way to socialize and help others in need. More info here.
North Portland Christmas Lights Ride – 5:30 pm at 7303 North Greenwich Avenue (N)
This ride is led by the Portland Wheelmen Touring Club (soon to have a different name?). Join an experienced ride leader for a tour of north Portland's best light displays. Dress warm! More info here.
Stay plugged into all the bike and transportation-related events around the region via our comprehensive event calendar.
— Jonathan Maus: (503) 706-8804, @jonathan_maus on Twitter and jonathan@bikeportland.org
Upgrade your inbox: Sign up here to get the Weekend Guide and all our stories delivered via email.
BikePortland needs your support.
Jonathan Maus is BikePortland's editor, publisher and founder. Contact him at @jonathan_maus on Twitter, via email at maus.jonathan@gmail.com, or phone/text at 503-706-8804. Also, if you read and appreciate this site, please become a supporter.