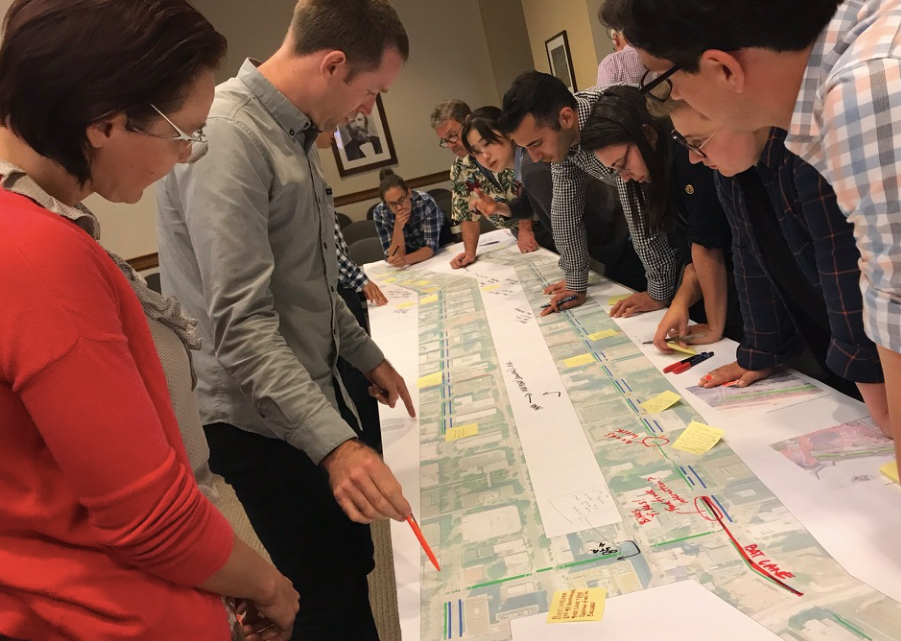 "There are some projects where we looked at the right-of-way and thought, 'What is the highest and best use?' And in some cases that's mobility. Moving people and not storing parked cars."
— Gabe Graff, PBOT project manager
With over 6,000 public comments and nearly six years of planning, the end is finally in sight for the Central City in Motion project. This ambitious undertaking aims to transform dozens of Portland streets from driving-centric thoroughfares into more humane and efficient corridors that move fewer vehicles and far more people through our existing right-of-way.
Since we checked in on this project two months ago, the Portland Bureau of Transportation has: come up with cost estimates for 18 project "bundles"; announced the final public outreach events before they hunker down and develop a final ordinance to be debated by City Council on October 25th (tentative date); created detailed conceptual drawings for each project; analyzed impacts on auto parking and driving access; and published what they call a, "people moving capacity increase" for each project.
This morning, PBOT released a new phase of their online open house that allows the public to prioritize the projects based on a limited budget. PBOT's new estimates put the total cost of the 18 projects at $72.3 million. They have $9 million in-hand and an "optimistic budget forecast" of about $30 million.
Here's the list of projects (not prioritized):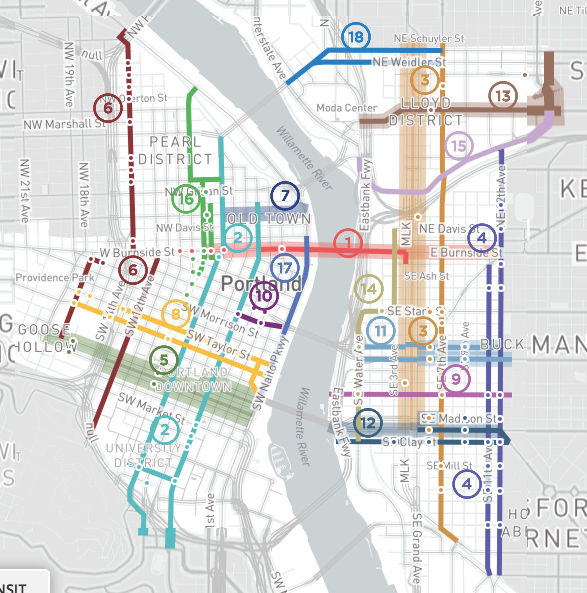 1) Burnside – W 10th to E 12th: $5,300,000
"Burnside was established as the city's east-west axis in 1912. A critical street ever since, this proposal will make Burnside more efficient, allowing it to carry more people as the city grows. The proposal includes a Bus and Turn lane, a series of crossing improvements, and protected bikeways. These investments will provide faster, more reliable TriMet service, improve safety and accessibility on West Burnside approaching the bridge, and facilitate more cycling trips across the river."
2) NW/SW Broadway / 4th: $6,620,000
"This project would create a signature north-south bike facility on the 4th Avenue and Broadway couplet, while upgrading unsignalized pedestrian crossings in South Downtown. The couplet would increase access for people biking to major destinations and employers, including PSU and the downtown retail core and increase crossing safety along both streets."
3) NE/SE MLK / Grand / 6th / 7th: $8,530,000
"Coordinating to serve freight, auto, transit and bike needs, these projects would improve how people through the heart of the Central Eastside. MLK and Grand would include Bus/Streetcar and Turn (BAT) lanes that could also accommodate freight. New pedestrian crossings of MLK and Grand would improve saftey and access. Protected bike lanes on 7th Avenue would connect the Sullivan's Crossing to the Tilikum Bridge. 6th Avenue, the likely location of the future Green Loop, would include new pedestrian crossings."
4) NE/SE 11th / 12th: $7,800,000
"11th and 12th Avenues are an important north-south route for freight, transit, autos and people biking. Today the roadways feature two narrow travel lanes that don't accommodate trucks or buses well. They are also difficult to cross. The project would redesign the roadways to include one wider travel lane to better accommodate buses and trucks, a buffered bike lane, parking, and a series of pedestrian crossing and bus stop improvements."
5) SW Jefferson / Columbia / Madison: $3,000,000
"Multiple bus lines use Columbia and Jefferson to connect from Goose Hollow to the Hawthorne Bridge. These streets are also critical east/west connections through downtown Portland for cars and trucks. The proposed project would improve transit reliability and speed by adding a Bus and Turn lane and bus stop improvements. Traditional bike lanes would also be provided."
6) NW/SW 12th / 14th / 17th: $3,030,000
"These streets work together to provide access to and from the Pearl District and through Goose Hollow. NW 14th would create a protected bicycle lane from Burnside to Hoyt, and a wide bicycle lane from Hoyt to Savier. Improvements to SW 17th Avenue would create a protected two-way, cycle track from Salmon to Alder, and a neighborhood greenway from Madison to I-405. A protected bicycle facility on SW 12th from College to Stark would provide access to the west side of the PSU campus."
7) NW Everett to Steel Bridge: $4,260,000
"In addition to MAX and Amtrak, the Steel Bridge carries thousands of commuters on TriMet buses, including lines 4, 8, 16, 35, 44, and 77. This project would make these bus trips faster and more reliable by adding a Bus and Turn (BAT) lane on Everett approaching the bridge. It would address the ramps on the west of the bridge that create merging conflicts, further improving transit commutes out of downtown."
8) SW Salmon / Taylor: $3,770,000
"SW Salmon and Taylor are proposed to become key east/west bike routes for people of all ages and abilities between Goose Hollow and the Willamette by creating a protected bike lane on both streets. They would link to the Hawthorne Bridge via a new protected bike lane on SW 1st. Pedestrian crossing improvements on both streets and bus stop improvements on SW Salmon are also proposed."
9) SE Salmon: $600,000
"SE Salmon community greenway would provide a family-friendly bike connection to the Eastbank Esplanade and the Willamette River. This project would include improved crossings at the intersections at Water, MLK, Grand, 7th, 11th, and 12th."
10) SW Alder / Washington: $1,400,000
"The Morrison bridge has a wonderful existing walking and biking path, but access to it poor. This project would improve pedestrian access and safety by eliminating dual turn lanes approaching the bridge. A short segment of two-way protected cycle track would connect 4th Avenue to the bridge, leveraging existing infrastructure to provide a critical connection between downtown Portland and the Central Eastside."
11) SE Belmont / Morrison: $3,020,000
"Belmont and Morrison are key east/west connections in the Central Eastside, providing important retail, freight, and transit access. This project improves transit access and speed with new transit islands, improves pedestrian crossings, and provides protected bicycle lanes."
12) SE Hawthorne / Clay / Madison: $3,810,000
"Madison, Hawthorne, and Clay are critical east/west connections for the Central Eastside due to their connections to the Hawthorne Bridge. This project includes a host of multimodal improvements to make these streets more efficient, including transit priority at intersections on Hawthorne and Madison, protected bike lanes on Hawthorne and Clay, and pedestrian crossing improvements on all three streets."
13) NE Multnomah / NE 16th: $4,000,000
"NE Multnomah is a key east/west connection through the Lloyd District that provides access to retail and other destinations. This project would improve the existing parking protected bike lane on NE Multnomah and address bus/bike conflicts. A neighborhood greenway on NE 16th would provide a connection between this route and NE Portland neighborhoods."
14) SE Water / Stark / 2nd: $2,520,000
"A two-way cycle track on Water Avenue would provide a safe and convenient alternative to the often heavily used Eastbank Esplanade, providing direct access to bridges and destinations in the inner Central Eastside Industrial District."
15) NE Lloyd Blvd: $1,000,000
"This two-way cycle track along Lloyd would provide a cycling connection from the Steel Bridge to 16th. It would connect to the forthcoming Sullivan's Crossing – a new pedestrian and bicycle bridge to be constructed over I-84 at 7th Avenue."
16) NW Park / 9th: $4,700,000
"This project provides a north/south connection from the Pearl District to downtown. Protected bike lanes on NW 9th transition to a protected bike lane on Park. New signalized crossings of Park at Glisan, Everett, Burnside, and Oak will remove barriers to walking and biking in this area."
17) SW Naito: $4,000,000
"Naito Parkway serves as a critical transportation spine along the west side of the Willamette. This project would implement a year-round version of "Better Naito," providing a two-way cycletrack and sidewalk along the west side of Waterfront Park. Signal timing, median work, or adjustments to the existing curbline would be utilized between SW Salmon and Morrison, to facilitate auto access to I-5 via the Morrison Bridge."
18) NE Broadway / Weidler: $4,980,000
"N/NE Broadway and Weidler streets are a key connection between the east and west sides of the Central City. This segment of the corridor includes some of the highest crash intersections on our bicycle transportation system. This project would reconfigure travel lanes where feasible to create protected or buffered bike lanes for improved safety and circulation. The project would extend from the Broadway Bridge to NE 7th Ave to connect with existing bike lanes in the Lloyd neighborhood."
Instead of building one-off projects in isolation, PBOT Project Manager Gabe Graff sees the CCIM effort as a way to build a network of, "Cohesive multimodal projects that will help PBOT meet the needs of a growing Central City." The city expects 37,000 new households and 51,000 new jobs in the Central City (east and west of the Willamette) by 2035. That's a 30 percent growth in population in just 3 percent of the land area.
To emphasize how these 18 projects address that challenge, PBOT is using a metric (borrowed from Vancouver, Canada) that looks at how many people can fit in a street — not just how many cars. PBOT used a baseline number of 850 people per hour, which is a typical downtown traffic lane capacity. They then looked at how many people could move through a street in transit vehicles and in protected bike lanes (based on studies by NACTO, the National Association of City Transportation Officials).
By adding protected lanes on SW 4th between SW Barbur and Flanders in Old Town, for instance, PBOT estimates they can move 65 percent more people through the street.
Graff said that type of analysis is crucial because the expected efficiency gains of these projects, "Were not coming across in a very compelling way to everyone." As we mentioned back in June, some active voices have expressed major concerns about how this project will impact driving times and auto parking availability.
On that note, Graff and his team have been busy trying to quantify parking losses and associated concerns. To ease anxieties among stakeholders like the Portland Business Alliance and others, Graff said they're working on a "parking mitigation strategy." That is, PBOT is putting together a report that will detail how the agency will continue to provide ample auto parking as these projects are completed. It will include information about how to better utilize existing parking garages, where to implement pro-time parking (where parking is allowed during off-peak hours); drop-off/pick-up zones for taxis and rideshare vehicles, and so on.
"What was a dedicated bus lane during the peak hour could become a taxi or TNC [transportation network company] zone in the entertainment district, or a freight loading zone," Graff said. "We are trying to think creatively about how we use the curb-zone and so that is a conversation we are having."
In the end, Graff said the CCIM is about "making our streets more efficient." "There are some projects where we looked at the right-of-way and thought, 'What is the highest and best use?' And in some cases that's mobility. Moving people and not storing parked cars."
PBOT's aim with this final push of public outreach is to come up with an implementation strategy that separates projects into 0-5 year and 6-10 year construction timelines. Those dates are based solely on funding availability, Graff says, because all the projects are viable and shovel-ready.
If all goes according to plan, PBOT could break ground on the first project(s) starting next year.
To share your feedback, check out the online open house or drop-in at one of the upcoming open houses:
– Tuesday 9/18 from 4:00 to 7:00pm at OMSI Auditorium (1945 SE Water Ave)
– Thursday, September 13th from 4:00 – 7:00 pm at PSU's Karl Miller Center (615 SW Harrison)
If you'd like to go deeper into the projects with local activists from Bike Loud PDX, they've planned a CCIM discussion night for September 10th.
— Jonathan Maus: (503) 706-8804, @jonathan_maus on Twitter and jonathan@bikeportland.org
Never miss a story. Sign-up for the daily BP Headlines email.
BikePortland needs your support.