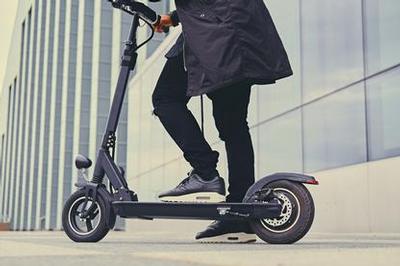 The City of Portland just opened its application process for a four-month Shared Electric Scooter Pilot Program.
PBOT says the total number of e-scooters allowed in the city will be capped at 2,500 and there will be a requirement that companies deploy 20 percent of the fleet in east Portland (as defined here). Top speed will be limited to 15 mph.
Here's more from the announcement:
Throughout the Pilot Program, Shared Scooter companies will be expected to report on and mitigate impacts in several areas of concern. These include (but are not limited to): Safety and access for people walking, safety and access for people with disabilities and compliance with state law (including helmet requirements and the prohibition on sidewalk riding).

Through public engagement and program evaluation, City officials will determine whether and under what circumstances electric scooter sharing may be permitted to continue operating in the public right-of-way after the Pilot Program has ended. The bureau will use anonymized trip data analysis, user surveys, and intercept surveys to understand the potential benefits and burdens of e-scooter operations in Portland in relation to the City's equity, mobility, and climate action goals.
[pdf-embedder url="https://bikeportland.org/wp-content/uploads/2018/07/scooter-share-application.pdf"]
During the pilot, PBOT will gather data from surveys, focus groups, a complaint hotline and more. They'll be trying to assess whether the micro-mobility devices reduce auto use and congestion, improve street safety, expand mobility options for underserved communities and reduce air pollution.
It will cost each company $250 to apply and $2,500 for the permit if they're selected. PBOT will also charge a 25-cent per-trip surcharge. The scooters will hit the streets July 23rd and the pilot program will end on November 20th.
The scooters are illegal to use on sidewalks and they'll be a new presence in Portland bike lanes. The devices will be dockless, meaning users won't have to park them in specific spots.
In the 36-page application packet, PBOT clarifies to potential operators that as per Portland City Code section 17.44.010 A: "It is unlawful for any person to obstruct or cause to be obstructed any roadway, curb or sidewalk by leaving or placing, any object, material or article which may prevent free passage over any part of such street or sidewalk area." There's also this daunting list of where scooters cannot be parked:
In order to earn a permit, PBOT is requiring operators to notify users that helmets are mandatory.
Learn more on PBOT's website.
— Jonathan Maus: (503) 706-8804, @jonathan_maus on Twitter and jonathan@bikeportland.org
Never miss a story. Sign-up for the daily BP Headlines email.
BikePortland needs your support.