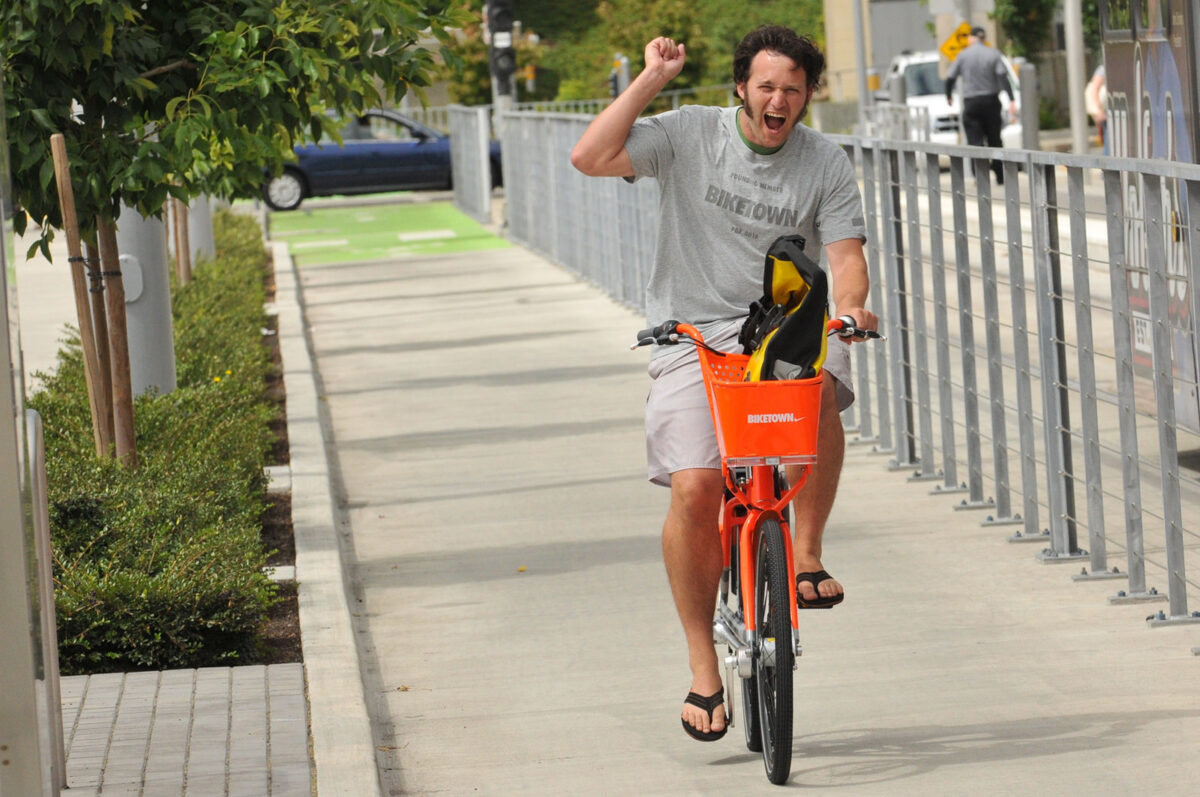 With Pedalpalooza kicking off next week it feels like this weekend is just the calm before the storm. Even so, we have a bunch of great ride ideas for you.
Here are the BP picks for the weekend…
Friday,
Biketown Rack-a-thon Alley Cat – 8:00 am to 5:00 pm
Fun rides that use Biketown bikes are a hot thing right now. Stoking the trend is our friend Hobotech with a new spin on the genre. The rules: Get as many Biketown credits as you can by returning stray bikes back to their docks in the allotted timeframe. More info here.
Joe "Metal Cowboy" Kurmaskie Presents: The Evelyn Hamilton Story – 5:00 pm to 8:00 pm at Western Bikeworks (Northwest)
It's bicycle storytime with legendary teller of tales Joe Kurmaskie. He'll introduce you to famed but forgotten bike racer Evelyn Hamilton. Expect a trove of archived newsreels and photos with Joe's trademark quips and comments thrown in. More info here.

Saturday, May 26th
Biking About Architecture: Portsmouth – 11:00 am to 2:00 pm at Darcy's Restaurant & Bar (North)
Victorians, a toy house, lots of great parks and a cruise on the Peninsula Crossing Trail await you on this latest edition of Jenny Fosmire's renowned residential architecture tours. More info here.
Shifting Gears: A bike ride through Portland's history of community displacement – 3:00 pm to 5:30 pm at New Columbia (North)
Part of the Vanport Mosaic Festival (May 23-28) this ride will help you better understand the history of displacement and discrimination in north and northeast Portland. Ride is led by community organizer LaQuida Landford. Bikes available to borrow for free at the ride thanks to Biketown and the Community Cycling Center. More info here.
Sunday, May 27th
Kidical Mass PDX Southwest – 1:30 pm to 4:30 pm at Gabriel Park (Southwest)
A rare chance to join a free group ride with families in southwest Portland. Expect a short, 3-mile loop that ends at a place for food and treats and a playground! More info here.
The Bike Share hour – 6:00 pm to 7:00 pm at Salmon Street Fountain (Central City)
Another new ride concept based on Biketown. Rules for this one are that you must use a bike share bike and you must be nice and enjoy yourself. Everyone welcome. More info here.
Zoobomb – 8:30 pm at the People's Bicycle Library of Portland (a.k.a. "The pile")
These long and warm nights are perfect for cruising down hills on small bikes (or any bike for that matter). Enjoy Washington Park in a new way and meet very nice people too. It's a proud Portland tradition. More info here.
Stay plugged into all the bike and transportation-related events around the region via our comprehensive event calendar.
— Jonathan Maus: (503) 706-8804, @jonathan_maus on Twitter and jonathan@bikeportland.org
Upgrade your inbox: Sign up here to get the Weekend Guide and all our stories delivered via email.
BikePortland needs your support.
If you have questions or feedback about this site or my work, feel free to contact me at @jonathan_maus on Twitter, via email at maus.jonathan@gmail.com, or phone/text at 503-706-8804. Also, if you read and appreciate this site, please become a supporter.