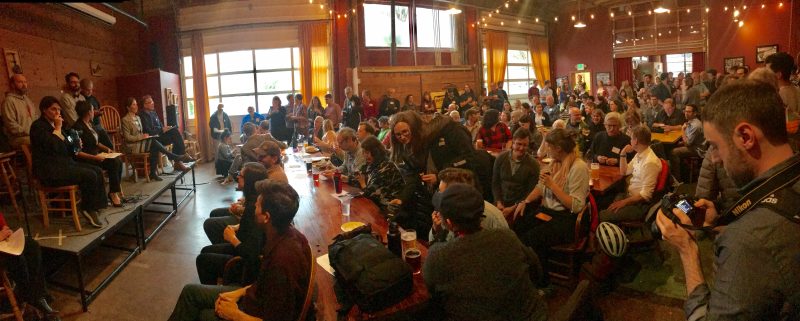 Last night proved that while transportation might not be a top issue in Portland politics these days, it still brings out the largest crowds.
There was barely even standing room at the Lucky Lab Beer Hall last night for the City Council Candidate Forum on Transportation — an event co-hosted by Young Professionals in Transportation, Community Cycling Center, The Street Trust, Oregon Walks, and OPAL Environmental Justice Oregon. The crowd impressed Commissioner Nick Fish, who said in his opening remarks: "This is the largest turnout we've had for an event."

"We need to stop painting this as a progressive utopia where everything is wonderful and where all you have to do is get on your bike and life will be great."
— Jo Ann Hardesty, candidate for city council position three
Due to the questions and the candidates themselves, there was a very strong focus on east Portland and how our transportation policies impact people from underserved neighborhoods where there's a high proportion of low-income residents and people of color. Other ideas that were widely supported by nearly all the candidates were free transit for all and opposition to the I-5 Rose Quarter project (that will add lanes to the freeway).
Nine candidates participated: four of them are running for position number two (currently occupied by Nick Fish) and the other five are running for position three (where Dan Saltzman currently sits). The position two candidates at the forum were: Julia DeGraw, Nicholas Sutton, Philip Wolfe, and Nick Fish. And the position three candidates were Felicia Williams, Andrea Valderrama, Jo Ann Hardesty, Stuart Emmons, and Loretta Smith.
The moderator asked three questions that were given to the candidates ahead of time, and there were three questions from the audience. Time limits were strictly enforced. Candidates got two minutes for the prepared questions and one minute to respond to each audience question.
Ready? Here we go…

Question 1): In 2016, City Council adopted the Vision Zero Action Plan to eliminate all road deaths and serious injuries by 2025. However, last year 45 people were killed on our streets, making 2017 the deadliest year in over a decade. As most of these deaths occurred in historically underinvested neighborhoods, what concrete actions would you take to make our streets safe, especially for communities of color and other vulnerable populations?
Andrea Valderrama, a policy advisor for Mayor Ted Wheeler who also worked for former PBOT Commissioner Steve Novick, was one of several candidates who repeatedly invoked their personal experience of living east of 82nd Avenue. "The fear of walking along big arterials in my neighborhood — like 102nd and 122nd — is really real," she said. Valderrama had the most substantive answer on this question, outlining four ways she'd approach the problem: speed reduction, engagement, education and prevention, and technology. She wants the 20 mph residential speed limit to be expanded to arterials and is "interested" in speed cameras. Valderrama also said city meetings must be more accessible and culturally relevant.
"There's been a lack of visionary leadership from city council for the last 10 years."
— Julia DeGraw
Community organizer Julia DeGraw also lives east of 82nd and said she uses streets that aren't safe on a daily basis. She thinks we have unsafe streets because, "There's been a lack of visionary leadership from city council for the last 10 years." She also railed against our commission form of government, saying it creates silos that prevent us from a more "holistic" approach to transportation problems. "We also need to be looking at trees," she said. "I know that sounds a little bit silly, but we know that trees slow down cars and create safety."
NAACP Porltand President Jo Ann Hardesty said Vision Zero uses too much of a "punitive approach" and she'd rather see more education. "$247 bucks is excessive for first ticket," she said. "We need to be creating communities that are walkable and have amenities so that people are able to walk." Hardesty said it's "inexcusable" that a "city with so much riches" invests so much in downtown when other parts of the city have been "forgotten."
Commissioner Nick Fish seemed to take offense at DeGraw's comment about a lack of leadership. "Let me thank the visionary leadership in this room that has actually put us on the map around a lot of innovative transportation policies," he said at the outset of his remarks. Fish then relayed the story of losing his mom to a "car accident" when he was 11 years old. "As your city commissioner I'll wake up everyday to try and prevent people from dying on our streets," he promised. Fish then referred to Vision Zero as a "bold plan." "But the problem with Vision Zero," he continued. "Is we don't have enough resources to implement it." We could save money and prevent deaths if people would just slow down, Fish added.
Philip Wolfe used his first answer to point out his experience of being passed by bicycle riders. "When I'm walking, people assume I'm a hearing person," he shared through an interpreter, "and they rush by me." "That's a space where able-bodied people forget about people with disabilities." He also mentioned that spending "Half a billion dollars for expanding freeways" won't fix the "root problems" we face.
Question 2) Low-income and communities of color have been disproportionately burdened by our transportation policies, such as the construction and expansion of highways that have cut off their communities and displaced them from their homes. Given the urgency of climate change and Portland's commitment to increase safe walking, biking, and transit connections in the 2015 Climate Action Plan, what policies would you enact to bring environmental justice to these communities? 
Valderrama answered by saying her nearly three-year old daughter was just diagnosed with asthma. "We have to address the real impacts of environmental racism in our low-income communities in outer east Portland," she said. "It's interesting that when we hear about the things like the Cully tire fire we don't hear about them as much as if it would have happened in another neighborhood." Valderrama also expressed support for a completely fareless transit system and opposition to the I-5 Rose Quarter project, saying, "I don't think widening freeways aligns with these goals and it's not going to solve our congestion problems."
"The half-billion dollar expansion will serve the wrong people. It won't serve us. It will serve the rich."
— Philip Wolfe, referring to the I-5 Rose Quarter project
DeGraw also voiced opposition to the I-5 Rose Quarter project and focused her answer on diesel toxins from trucks. "Low-income and communities of color are hit hardest with diesel particulates," she said. "And not only were many of these communities displaced by freeways, now they are living along freeways that are poisoning them." DeGraw wants Oregon to step up its standards for diesel emissions to Washington and California standards and she advocated for a local air-quality task force.
A world-class transportation system in Portland would give everyone access to public transit and "the ability to have bicycles," said Jo Ann Hardesty. She also pointed out that, "We had a 'housing emergency' not because 10,000 African-Americans were displaced from inner northeast between 2000 and 2010. The housing emergency came about when white middle-class people found it difficult to live in the city." Hardesty said Portland needs elected leaders with guts to tell "the real story." "We need to stop painting this as a progressive utopia where everything is wonderful and where all you have to do is get on your bike and life will be great," she continued. "That is not for everybody. It hasn't been that way for people of color."
Fish used his answer to make a pitch for permanent Youth Pass funding. "We cannot keep kicking the ball around and saying it's the legislature or TriMet or the City or the School Board… We must have sustainable and permanent funding so that every high school student in a public school in the city of Portland can access Youth Pass." He also said it's time for Portland to "take back" 82nd and Powell Blvd, "Because we can no longer count on ODOT to maintain them safely… And we must do that now!"
Count Stuart Emmons as another candidate opposed to adding lanes to I-5 through the Rose Quarter (every candidate except Smith and Fish expressed opposition to that project). He said the biggest problem is that our current zoning codes "continue to gentrify and displace our communities of color." Emmons also wants better transit to east Portland, "So people can walk to work and get to school safely."
Philip Wolfe used this question to once again bring up the I-5 Rose Quarter project, saying, "The half-billion dollar expansion will serve the wrong people. It won't serve us. It will serve the rich." Nicholas Sutton piled on: "I see no reason why we'd spend $450 million on an expansion that would apparently achieve nothing."
Current Multnomah County Commissioner Loretta Smith said I-5 runs right through her district and causes a lot of asthma and respiratory problems among her constituents. But she didn't express an opinion on the I-5 Rose Quarter project — likely because she supports it (as she clearly says on her website). Instead Smith focused her answer on how "We have to get this transportation thing right and figure out where the toxins are." She mentioned toxic buses and her belief that TriMet needs to make more of them electric.
---
Question 3) We've talked about Portland's dangerous streets and transportation injustices. However, a significant barrier to addressing these challenges is the fact that most of our streets and funding are dedicated to moving and storing automobiles. If elected, how would you reallocate the City's road space and transportation budget to prioritize walking, biking, and transit?
Felicia Williams shared her experience riding at night to her job at FedEx on Swan Island. "I'd dress with as much reflective gear as I could and I'd have two flashers on the back, three flashers on the front, hoping I would not get nailed by the drunks." This has led her to be a major backer of protected bike lanes. She's currently a member of the Central City in Motion project advisory team (in her capaicty as president of the Downtown Neighborhood Association). Williams said the key question we face is, "How do we create an infrastructure that accomodates growth, while also maintains modal splits."
From Andrea Valderrama's point of view we can't forget that in some parts of town, where people don't have good transit service or bikeways, people are "forced" to use cars. She advocated for more "Creative use of the right-of-way so people are safe in alternative modes of transportation other than car usage." Valderrama wants to redesign streets with the understanding that, "Curb space isn't just for parking your car, but for all types of users." She wants separate loading zones for ride-sharing companies like Uber and Lyft.
Julia DeGraw said the prospect of PBOT taking over 82nd Avenue from ODOT is one of the main reasons she decided to run. "Make it a model city road… Restore it in a way that's equitable to the communities living along it," she said. "Slow it down, reduce the traffic and make it safer for pedestrians and cyclists." When it comes to parking, she said there's just not enough room for all the cars and that we have to, "Get out of this car-centric way of thinking about things." "If we want to get people out of their cars, why are we dedicating 90 percent of our road space to them? This is a a political will issue."
A skeptical Jo Ann Hardesty threw a bit of cold water on the excitement over a PBOT-controlled 82nd Ave: "I wish I believed that the City of Portland taking on 82nd Avenue would make it better. I wish I believed that." Hardesty added that because parts of east Portland still don't have sidewalks, "We cannot talk about bike paths without talking about safety for community members who have paid their fair share in taxes and just are not getting the infrastructure."
Commissioner Fish brought up "20-minute neighborhoods," saying we must expand walkability further afield. But alas, the veteran politician added, "We simply don't have enough money to build out the infrastructure for all the plans we've adopted — starting with the Bike Master Plan and going forward, so we're going to need new revenue." Fish said with dwindling funding prospects from Washington D.C., it's time to throw our support behind a "multi-billion dollar regional bond measure" that he suspects will be proposed in 2020.
"This is a really great crowd, but what would make this crowd better is if there was more diversity in this crowd. And that's something I could do very well."
— Loretta Smith
Stuart Emmons said he's lived in places like Brooklyn and Boston where he diddn't even want a car, so he knows what Portland aspires to. He was also impressed by a recent trip to Vancouver, BC: "I was looking at their bike lanes and went, 'Wow!' you could do this in Portland! I bike here and take my life in my hands, I've already had a lot of gashes. But they [in Vancouver] have protected bike lanes and we ought to absolutely move forward with that." Emmons is also bullish on a future of autonomous vehicles and "other options coming in the future" and thinks, "We really need to think broadly about what our city will look like without parking on streets or in parking garages."
Philip Wolfe flashed his bus pass and said he relies on them for much of his travel, "But there aren't enough routes." He wants to move beyond cars and thinks we should, "Take down those parking garages and set up shelters for homeless people and transitional housing." "We need to focus on people, instead of things and instead of building high-rises," he continued. "This is not Seattle!"
Loretta Smith used this question as an opportunity to talk about diversity. "This is a really great crowd," she said, "but what would make this crowd better is if there was more diversity in this crowd. And that's something I could do very well." Smith promised she would "bring diversity into City Hall" and said, "If you want to talk about transportation and changing the tone at City Hall, you need to go to someone who has brung diversity into the halls of the County." "Vote for Commissioner Smith and this is what you get: Diversity and equity."
Audience question 1) What specific solution will you propose to solve the problem of pedestrians dying in east Portland?
(It bears noting that none of these candidates are fully comfortable with the transportation topic in general. So when questions came from the audience, I found their responses even less specific and substantive than the prepared questions.)
Williams answered this by saying "It's a simple fix" and that all need to do is spent $8 million a year citywide. Valderrama repeated her idea of expanding the 20 mph residential speed limit to arterials and she pointed out her work (during her time with former Commissioner Novick) getting safety upgrades on SE 122nd that led to TriMet upping frequency on the bus line.
Hardesty's answer to this sounded like victim-blaming to one person I talked to after the event. After saying how some people drive too fast, Hardesty said, "I can tell you there are pedestrians that walk out in front of cars because they think they have bumpers and no one will hit them." Hardesty added that our streets would be safer if we fostered more "community connectedness" and moved beyond division. "We need to come together and decide what kind of community we want to live in."
Despite Hardesty's strong concerns about enforcement, Fish pushed for more of it. "We need to make life a little uncomfortable for people who are in a big rush and willing to put other at risk. It's selfish behavior and it must stop!"
---
Audience question 2) How would you fund all the stuff you've talked about tonight?
Williams said we should look to the example of Copenhagen where they created an "urban wealth fund" for their harbor. The city maintained ownership of the harbor then sold development rights to private companies and poured that money back into transportation infrastructure. DeGraw advocated for higher taxes on large companies and a "wealth tax." She also said she'd be "curious" about shifting the governance of TriMet to Metro.
To raise money for transportation, Hardesty said she'd put a $2.50 tax on Uber and Lyft rides (which got a loud applause). She also mentioned (perhaps responding to Fish's tough talk) that while she likes lower speed limits, she's "absolutely terrified of more enforcement" and that she doesn't feel safe, "When I hear public leaders talk about enhancing police presence… When we know African-Americans and Latinos are targeted for more enforcement than anyone else."
---
Audience question 3) Congestion pricing is a controversial policy that effectively manages traffic while generating new revenue. If the policy comes to Portland, how would you address the impact of congestion pricing on low-income populations while increasing access to transit?
Williams answered by telling the story of someone who works a low-wage job and has to pick up their child from daycare and spend two hours in traffic. "It tells you your time isn't worth anything, so it's a question of equity." She then turned to the failed, $3.6 billion Columbia River Crossing megaproject. "One thing I do know," she aid, "The CRC? We should have had that. We should have the MAX going to Vancouver then we wouldn't have the problem with congestion on I-5."
Valderrama wants to make congestion pricing "as progressive as possible" and she mentioned that we must improve transit in tandem with it if we really want to reduce traffic.
DeGraw thinks there's a way to do congestion pricing so that, "Folks at the lowest income don't have to pay."
Hardesty said, "Before we have a conversation about congestion pricing, we have to make sure the people we pushed out to the edges of our city are not harmed by this policy." She doesn't want people who live furthest away from the central city to be penalized and she doesn't want it to be based on income.
Fish said he agrees with Hardesty "completely." "We have displaced people to the fringes of the city and now we're going to say, 'We're going to charge you to come downtown'? That's a classic equity issue."
---
If you prefer to listen to the event, here's the audio.
What did you think about the candidates? Did you come away with a new favorite? Did any of them help or hurt their election chances in your eyes?
— Jonathan Maus: (503) 706-8804, @jonathan_maus on Twitter and jonathan@bikeportland.org
Never miss a story. Sign-up for the daily BP Headlines email.
BikePortland needs your support.