Posted by Jonathan Maus (Publisher/Editor) on January 2nd, 2018 at 3:39 pm
This just in from PBOT…
Friends of Gateway Green achieves major milestone in increasing access to park.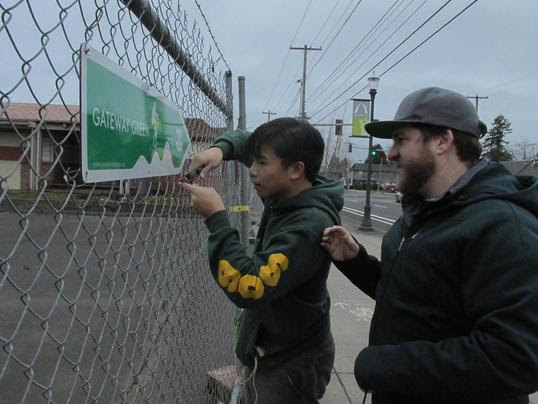 Gateway Green wayfinding signs have been installed! Many thanks to Tom Badrick, Linda Robinson, and the army of community volunteers who saw this project through. Funding for preliminary planning and siting was provided by Prosper Portland. The signs were designed by Propel Studio. The last $5,000 to print and install the signs came from People for Bikes community engagement grant as part of PBOT's Gateway to Opportunity project. Throughout these past 2 years, Friends of Gateway Green have been championing this effort to provide increased signage to help Portlanders more easily access Gateway Green Park by foot and bicycle. This was truly a team effort and we are so appreciative for all who made these 20 signs possible.
Pictures are courtesy of Tom Badrick.