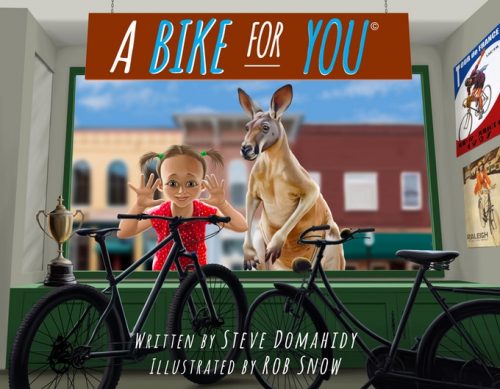 Go to any bike race or adventure ride these days and you're almost sure to see "Niner" on the downtube of at least one of the bikes. Niner Bikes, as their name suggests, is respected in the bike industry as a pioneer of the 29-inch wheel size, having launched their first model in 2004.
Steve Domahidy co-founded Niner and was head of its R & D department until 2011. He recently moved to Portland where he's put his design and engineering prowess behind a new brand (Viral Bikes) and a new project that's a departure from anything he's worked on in his 30-year career in the bike industry: a children's book.
Domahidy is currently in the final stretch of a Kickstarter campaign for A Bike For You, a book he wrote in tandem with illustrator Rob Snow. The book is a fun tale that uses animals to explore many different types of bikes and styles of riding. Here's an excerpt:
"Turtle wants a slow one to race no one

Wolf takes his on a trail with bumps

Monkey takes hers on one with jumps

Giraffe needs one that's tall

And Meerkat needs one that's small

Rabbit has one that needs a push

And Koala has one that's soft on her tush

Sometimes you need a bike to get through the snow

And sometimes you're someone who's on the go."
And here are a few of the illustrations by Rob Snow:
With several successes in the bike industry, Domahidy hopes his book will, "Inspire a new generation of bicycle lovers." "Our industry has not done a very good job inspiring new riders to want to get on bikes," he says. "And in my opinion this starts at the youngest of ages! I want to build a culture around bikes, and I want young children to see them as early as possible and begin to dream about where a bicycle can take them."
Part of the proceeds from Domahidy's Kickstarter campaign will go to Ride for Reading, a nonprofit that delivers books via bike to low-income youth.
He aims to raise $15,000 for the project and he's got over $10,000 so far with six days left. Have a look and consider supporting this great project.
Welcome to Portland, Steve!
— Jonathan Maus: (503) 706-8804, @jonathan_maus on Twitter and jonathan@bikeportland.org
Never miss a story. Sign-up for the daily BP Headlines email.
BikePortland needs your support.
Jonathan Maus is BikePortland's editor, publisher and founder. Contact him at @jonathan_maus on Twitter, via email at maus.jonathan@gmail.com, or phone/text at 503-706-8804. Also, if you read and appreciate this site, please become a supporter.