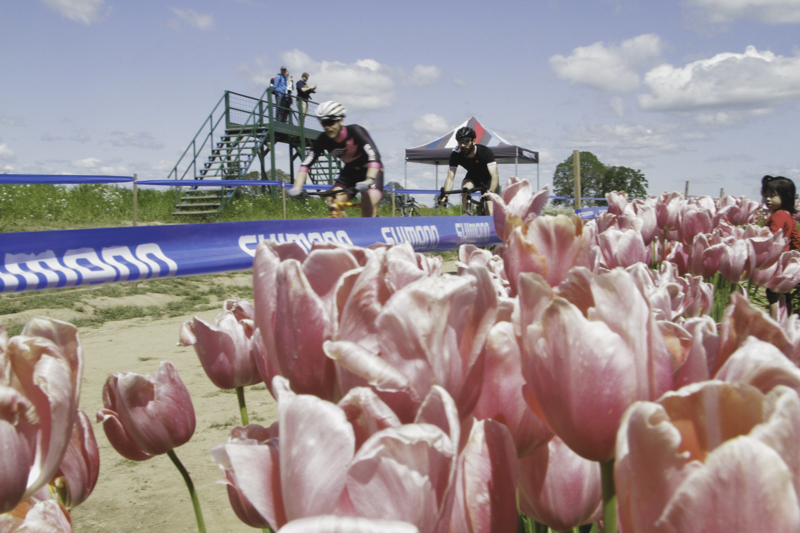 It was a quintessential Oregon scene last weekend when about 160 bicycle racers descended on a tulip farm in Woodburn (about 32 miles south of Portland).

The tulips were in full bloom for the inaugural Wooden Shoe Kermesse organized by the folks behind the legendary Cyclocross Crusade. The event offered a unique format and a chance to preview a new venue that will host a Crusade event when the series (now in its 24th year) begins later this fall.
If you're not a European bike racing fan you might not be familiar with the "kermesse" format. Like much in Portland's bike scene (including the De Ronde ride that happened a few weekends ago), it was inspired by Dutch cycling traditions. The kermesse, or "church festival," goes back about 650 years. As with all things Dutch, bicycles eventually became part of the festival and a race during the kermesse is a tradition that continues today.
Sunday's event was billed as part off-road criterium and part cyclocross race (without any barriers or run-ups). Racers battled for between five and 10 laps of a winding course that was just under two miles long. Speaking of the course, it was smack-dab in the middle of the Wooden Shoe Tulip Farm, a major attraction in its own right.
Jake Tong from The Wolfsmouth Cycling was at the event. Here's how he described the scene:
A day in the high 70′s after months of wet grey sure brings out the best in everyone… Families and people walked around high on the sun playing fair games and taking social media photos while racers whizzed by them time and time again… While people were intrigued by the two wheeled entertainment, they were certainly unaware of the danger of crossing the course… After my race I was drawn to all the activities going on. I ate fried food and shot paintballs at metal silhouettes of Bigfoot. I also got rides back and forth from the team tent from a tractor pulled shuttle with hay bail seating.
And here are a few more of Jake's images:
If this venue makes it onto the official Crusade calendar, the farm will look a lot different. But there will still be lots of fun, big crowds, and plenty of suffering to be had. Suffice it to say, we hope this becomes an annual tradition.
— Jonathan Maus: (503) 706-8804, @jonathan_maus on Twitter and jonathan@bikeportland.org
BikePortland is supported by the community (that means you!). Please become a subscriber or make a donation today.