Portland Transportation Director Leah Treat's decision last year to make physical separation the default design for bike lane projects is starting to pay off.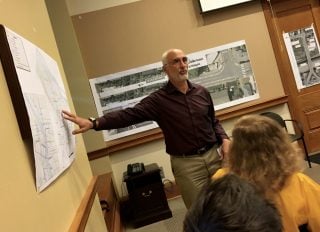 Portland Bicycle Planning Coordinator Roger Geller on Tuesday shared no less than nine projects, all approved and to some extent funded, that will scatter new, modern protected bike lanes into every quadrant of the city within two years.
None of them is a complete corridor treatment that runs longer than several blocks (though potentially larger projects in the central city and East Portland would be funded by the gas tax package that voters will decide on next week). And while they include some physical protection, they also include a lot of paint. Geller says that's because the budget still isn't where it needs to be. "We're still operating on a budget that relies on shoestrings, hence a lot of color," is how he put it last night.
But even so, if built, these projects will prove the city has taken a major step forward in its day-to-day process of planning incremental bike infrastructure improvements.
Geller presented the nine projects, along with several others that won't include physical separation, to the Portland Bicycle Advisory Committee (BAC) Tuesday night. He also spoke with us by phone to briefly elaborate on each.
SE Morrison between MLK and Grand – construction this summer
The Morrison Bridge has a great bike facility that is almost impossible to reach, let alone find for the first time. With public bike share arriving in July, this proposal for a contraflow lane on SE Morrison Street would help people find their way to and from the bridge landing on Water Street. Both create a parking-protected westbound bike lane on this awkward stretch of road, a definite improvement for people looking to jump quickly between the Central Eastside and downtown. Geller floated two possible options to the BAC Tuesday night:
SW Beaverton-Hillsdale Highway, 35th-39th – construction late fall 2016
This is just a four-block stretch of a very important road, but Geller said upgrading it from a buffered bike lane to a post-protected one will demonstrate "the design that we want to continue with" as more parts of the roadway are repaved or reworked. Also note that PBOT is proposing a shared bike/walk lane because this section of the highway has no sidewalk. Asked about this last night he said the sight lines are good and he expects people to use the lane with courtesy. Here's a basic before-and-after: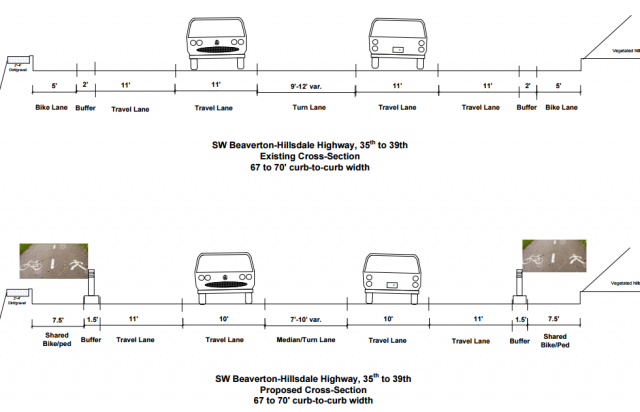 NE 21st Avenue bridge – construction starts 2017
Today, this bridge is arguably the most comfortable crossing of Interstate 84 in inner Northeast, but that's not saying much. A planned redesign would remove a few parking spaces on each side of the bridge, upgrade and extend the southbound bike lane with a buffer and upgrade the northbound bike lane into a bidirectional protected bike lane — meaning, yes, you will be able to cross the bridge southbound using whichever side of the bridge you want.
Here's the proposed north landing of the bridge: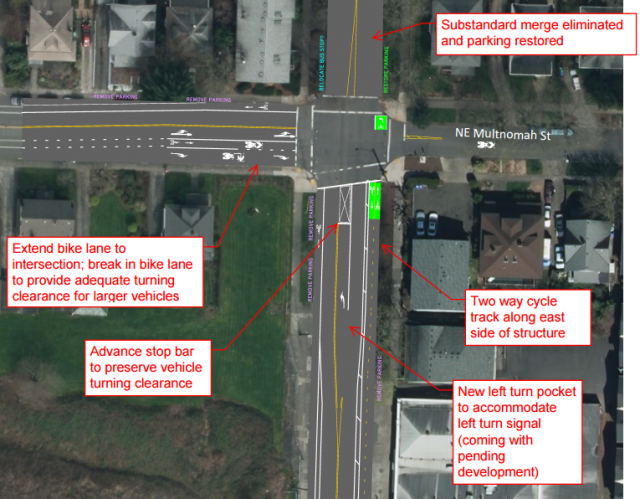 And the proposed south landing:
Geller said the two-way bike lane on the east side of the bridge (the one that heads north today) will have some sort of vertical separation, possibly hard plastic posts.
"We're going to put something in there," Geller said. "We're not yet sure what it will be, but it might be like the treatment on the Hawthorne Bridge. We're looking at that."
As for the interesting new "circular bikeway intersection" just beneath the Y of the southern landing, Geller said the center of the little roundabout "might be a painted element, it might be a raised element." Whatever it is, it'll be the first of its kind in Portland.
Also worth noting that the southern end of this project — the southbound curve on 20th — is where activists placed traffic cones to create protection for the bike lane back in March.
N Lombard at Pier Park – construction ends April 2017
This stretch of Lombard, a bit north of downtown St. Johns, is a useful connection to the parks and trails that meet at the tip of the St Johns peninsula. Geller said a series of restriped segments on Lombard and Burgard (which is what Lombard is briefly called when it jogs east to meet Columbia Boulevard) could combine to greatly improve access to Kelley Point Park, creating a bidirectional protected bikeway on the east side of the street that could potentially transition to a shared path.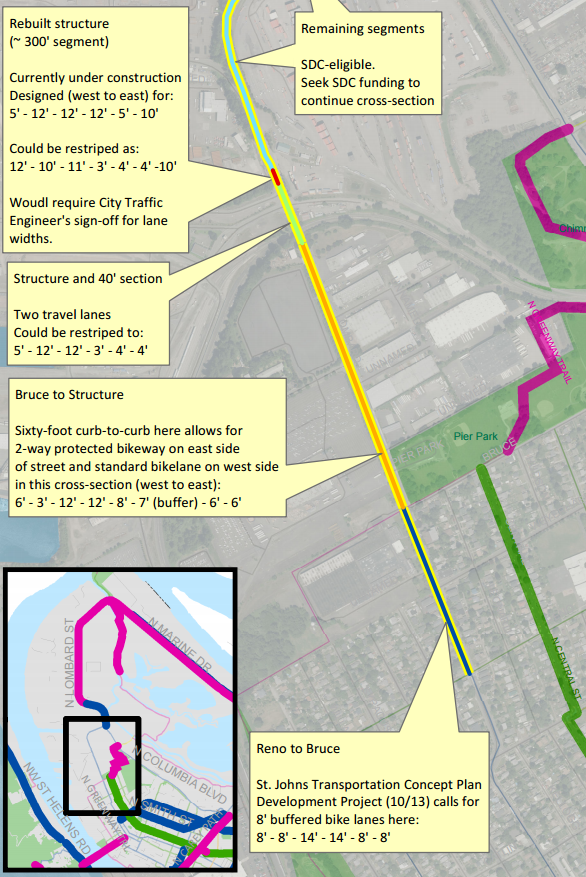 This seems to be one of the less detailed plans so far, but Geller is right that there's room to do something.
NE Halsey-Weidler in Gateway – construction 2017
We reported yesterday that the upgraded parking-and-curb-protected bike lanes in this commercial district, the only sidewalk-facing commercial strip in East Portland, will be among the best in the city. Geller uses that language, too. His plan for the area reveals some new details, including a bike-specific traffic signal phase at the busy 102nd Avenue intersection:

Geller said this course change for Halsey-Weidler was a "direct result" of the memo Treat issued last fall, telling the city to assume that every new bike lane should be protected and only downgrade it to paint if necessary.
NE 47th, Columbia to Cornfoot – construction 2017
This project links one of the few crossings of Northeast Lombard Street with the Columbia Corridor industrial area and, intriguingly, Portland International Airport. It's also a connection to Whitaker Ponds Nature Park, which sits just north of Columbia Boulevard.
The plan is to have sidewalk-level green bike lanes separated from auto traffic by a planting strip:
Nearby property owners, including the city parks bureau, are contributing to a voluntary local improvement district to pay for these changes to 47th. Unfortunately, the overpass that connects this stretch to 42nd Avenue and Northeast Portland's residential neighborhoods is still pretty awful. This work won't really pay off until that link can be closed.
NW Thurman and 20th – construction starts late 2017
Redevelopment of the huge Con-way site in Slabtown — haven't heard much about the Slabtown neighborhood? you will — is leading to a complete developer-funded rebuild of two streets in northwest Portland. There's more to see in the full plan, but here's the most interesting section: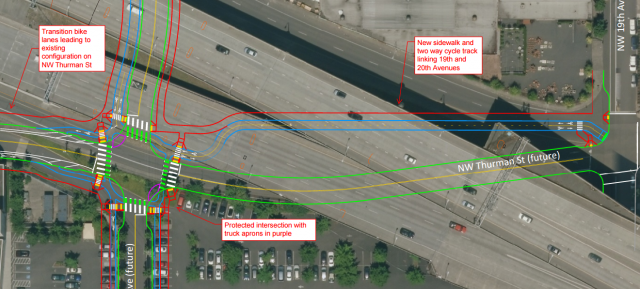 With the notable exception of the eight-lane freeway overhead, the design here is practically Dutch: raised bike lanes on 20th, protected intersections, raised crosswalks and even one block of a biking-walking street between 19th and 20th, beneath U.S. Highway 30. North of the freeway, a new bidirectional protected bike lane will connect west to 21st and 22nd avenues, which are proposed to get a new bike lane couplet.
Obviously this intersection won't be truly human-friendly as long as the freeway is looming and roaring above. But for better or worse, Portland's housing shortage has turned this into prime real estate anyway. That's given the city a chance to make the space dramatically better for getting around without a car. At the BAC meeting last night Geller was frank about the lack of quality bike infrastructure in northwest: "We should see more biking in this area but we don't, and I think that's probably more of a failure of our facilities than anything."
SW Bond Avenue – construction 2018
This will be a newly built street in the South Waterfront, running through the middle of the former shipyard between Moody Avenue and the Willamette River, connecting to the unfinished intersection on the west landing of Tilikum Crossing. When we got a look at the plans in September, we reported that as of that spring, the city was still preparing plans that showed a door-zone bike lane here.
No more. Thanks to the Treat memo issued in October, the city and the site's developers changed course on Bond and are now planning a much more comfortable raised bike facility: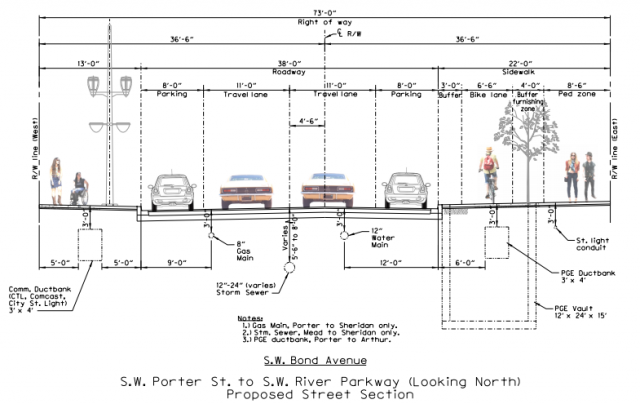 "Director Treat said we're going to start with a protected facility," Geller told BAC members last night. "In the past we'd look at the standard treatment of bike lanes and try to work our way up to something better; but when you start with a protected bike lane and you're directed to do that, you get different results."
In the past, the city has rightly worried about whether sidewalk-level bike facilities invite conflicts between people walking and biking. But Geller said the solid green color installed on Moody Avenue last fall is working much better than the previous uncolored sidewalk-level bike lanes.
"This design that we have finally implemented on Moody is working really well for road users," Geller said. "I think we also saw in the Massachusetts Department of Transportation Separated Bike Lane Planning and design guide, they had some really good images that clearly showed a really strong visual separation. I think that also reinforced our experience."
SW Burnside-Alder-19th-18th – construction TBD
We broke the news in February that the city was considering adding protected and buffered bike lanes, plus protected intersection elements, to this hectic triangle of pavement. Geller shared the rendering from local consultants Kittelson and Associates: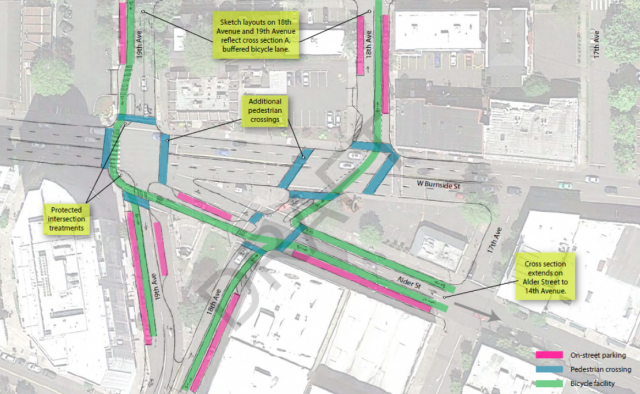 You can read more about this project in February's coverage. It's great to see the protected intersection concept (which had also been floated in some pro bono work by local street designer Nick Falbo, who coined the "protected intersection" phase) continuing to move forward.
After Geller had gone through each of these projects, I asked him whether they represented a breakthrough for the city's internal assumptions about protected bike lanes: for example, the fire department rules that prevented the lanes on Stark and Oak downtown from being parking-protected, or concerns about keeping them clear of snow or debris. (The Oregon Department of Transportation has floated that a few times as an obstacle to protected bike lanes.)
Not really, Geller said. Those obstacles aren't any larger or smaller than they were before.
"The Fire Bureau wants 20 feet [minimum open roadway width] and that hasn't really come up in these particular designs," Geller said. "I think we're going to have to continue to work out maintenance on these. We may need some new equipment."
"The bureau is focused on problem-solving those issues as they come up," added city spokeswoman Hannah Schafer.
Geller is, however, optimistic about new collaboration with the Bureau of Environmental Services, which is often looking for chances to add permeable rain gardens to city streets. Geller said a closer relationship with BES might let the city turn storm-runoff strips into protection between bike and car traffic.
"We recently did an in-house exercise with them and I think we've got some good opportunities to do some new techniques," Geller said. "Certainly as we get into the central city project, that will come into play."
PBOT has several other projects in the hopper that will improve bicycle access at key locations throughout the city. Stay tuned for a look at bikeway improvements coming to NE 37th and Prescott, NE 122nd and I-84, NE 16th near Sandy and SE 41st and Holgate.
— Michael Andersen, (503) 333-7824 – michael@bikeportland.org
Our work is supported by subscribers. Please become one today.