Any room becomes a special place when it's full of people you love and respect, and BikePortland's 10th birthday party on Friday was one of the most special rooms we've had the honor of bringing together.
Nearly 300 people turned out. True to the spirit of the site, we welcomed citizen gadflies and academic brainiacs, bike-club party kids, family members of traffic-violence victims, indie framebuilders and a U.S. congressman.
Everybody packed into Velo Cult, the bar-and-bike-shop hangout in Hollywood, to talk about the past, the future and the launch of the new subscription program that we hope will deepen our connection with our community, elevate more of its voices, serve a broadening range of readers and of course get BikePortlanders good deals on cool bike stuff.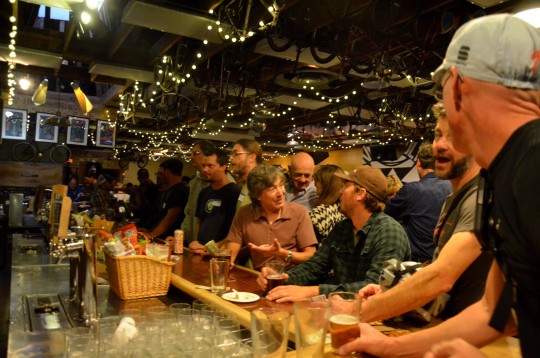 The bar was packed all night!
Jonathan told us how, until about a month ago, he hadn't decided whether the announcement at Friday's party was going to be a grand goodbye to the community or a leap into a plan for another decade of growth. He said the outpouring of encouragement that came from readers after his frank post last month about the challenges of local journalism answered the question for him.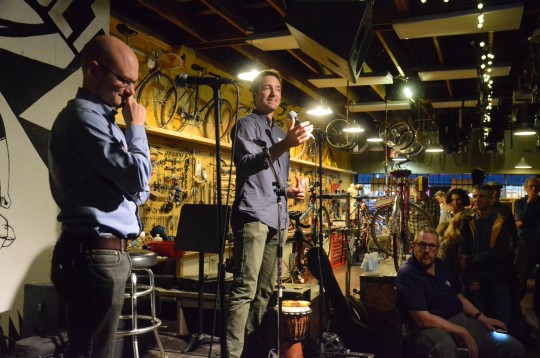 He also had a chance to thank his mom, Jackie Wayman, the woman he said gave him permission to follow big goals:
And his wife Juli (pictured holding their son Everett (4), with their daughter Dani (10) at right) and the rest of his family, who've pulled with him over the last decade while they've built a very daring business together.
Early in the evening, Congressman Earl Blumenauer unexpectedly came by to present a "Certificate of Congressional Recognition" to BikePortland. He said Portland has had ups and downs over the years that we've been covering his work on its behalf but says it's currently enjoying a high point in its transportation progress.
All the photos in this post except that last one were taken by Portland Bureau of Transportation Active Transportation Division Manager Margi Bradway, who somehow acquired my camera early in the evening and proceeded to have what she frequently announced was a fantastic time getting shots of everyone. We couldn't get them all in but here's a smattering of the good times that were had…
Paul Jeffrey (PJ), Brad Reber and Halley Weaver:
Cory Poole and his daughter Penny: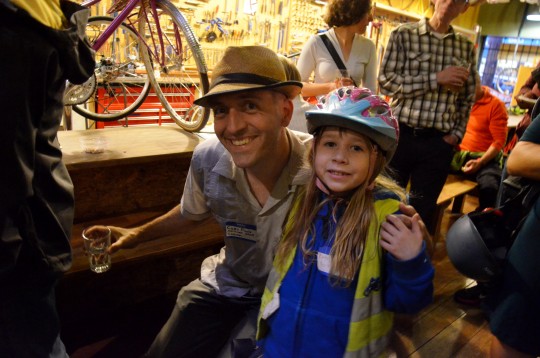 Heidi Guenin and friends:
Timo Forsberg and Esther Harlow:
Fred King:
Maria Schur:
Susan Kubota:
Nils Tillstrom, Corey Cartwright, Mark Ginsberg:
Fans of the site having a great time:
Hau Hagedorn:
Emily Guise and Erik Soltan: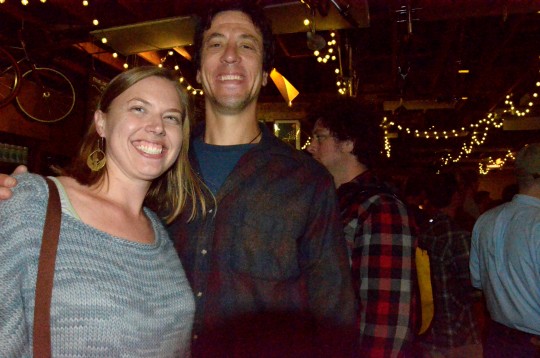 Jonathan's stepfather Art Wayman and his neighbors Kim and Jim:
Katrina Yuen and Lars Larson:
Carl Larson and Jonathan:
David Griffiths:
Aaron Kaffen and friend:
Cameron Whitten, Scott Nowicki, Ken Southerland:
Erinne Goodell and Kirk Paulsen: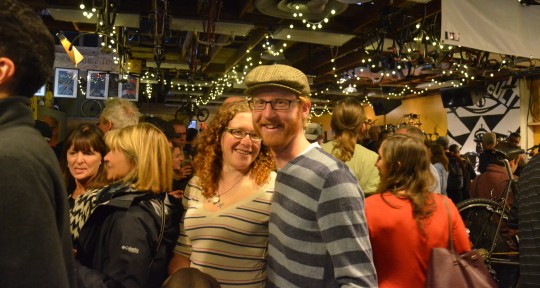 Brian Sysfail: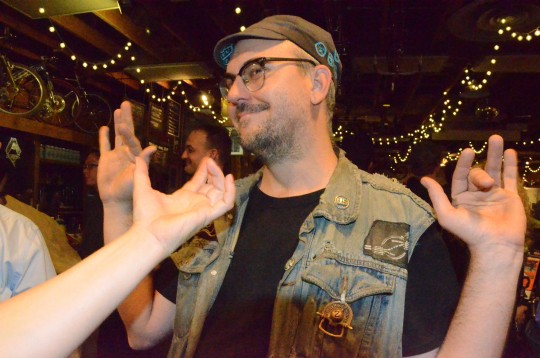 P.J. in his natural environment:
Ryan Hashagen and Nick Falbo:
Friends enjoying the evening:
Laura Weiss and friend: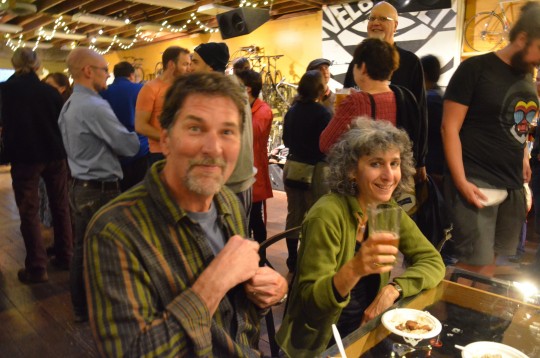 Cameron Whitten and friend:
My awesome wife Mo volunteered at the front-door table:
We also invited people on stage for a live comments section. Speakers included the doggedly good-natured biking advocate Reuben Duemling, sometimes (OK, often) known online as 9watts:
Bicycle Transportation Alliance Executive Director Rob Sadowsky:
The do-it-yourself scourge of unsafe roads Jim Parsons, aka K'tesh: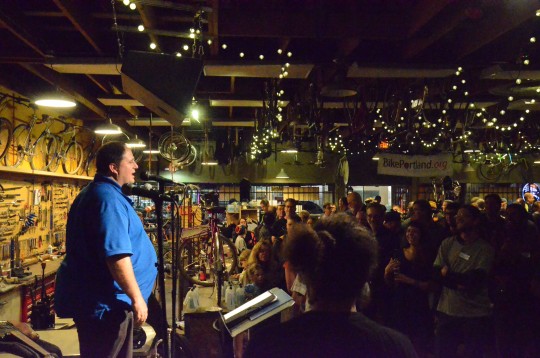 Lenny Anderson, formerly of the Swan Island Transportation Management Association:
Safety advocate Kristi Finney: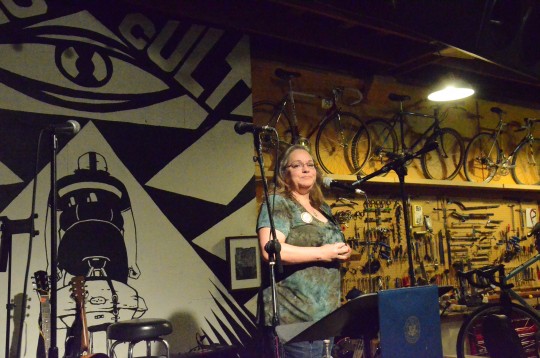 City traffic signals engineer Peter Koonce:
Timur Ender, of Commissioner Steve Novick's office:
Aaron Brown (big hands) and friends:
Marsha Hancrow and Doug Klotz: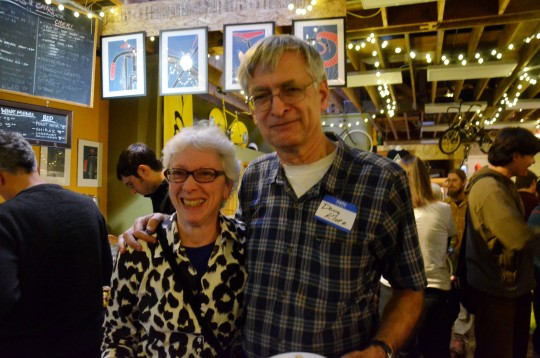 Josh Chernoff (L) and Eric Wilhelm:
Todd Mobley (L), Susan Koonce, Peter Koonce, Brian Davis, Mike Ard, Gwen Shaw, Jordan Norris:
Laura Crawford and Adam Newman:
Scott Mizee (L) and Robert Ping:
Sky Boyer (VC hat), Brad Carpenter (foreground) and friends:
A few celebrities arrived in uniform:
And we also turned three empty bike boxes into a huge timeline of some of our favorite moments from the last 10 years.
We were glad to have several hundred temporary bike parking spaces (thanks to Bikeracker):
(Photo: Aixe Djelal)
And two big chocolate cakes (thanks to Whole Foods Laurelhurst):
It was a very memorable night and we are deeply grateful for all your well wishes and support.
If the people who surround you determine the person you become, we were lucky to have company like this on Friday to welcome BikePortland into our second decade. A lot more things are certain to happen, both for this 10-year-old start-up and for the city we all love. If you'll be here for us to watch it happen, we'll be here for you too.