Posted by Jonathan Maus (Publisher/Editor) on May 28th, 2015 at 3:13 pm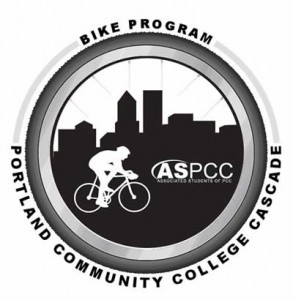 An abrupt closure of the Student Center at Portland Community College's Cascade Campus has left staff and volunteers with the school's Bike Program scrambling and frustrated.
Tom Martin, the bike program coordinator at the north Portland campus contacted us today and said he and other staff were informed late afternoon on Friday about the closure and were given no prior notice or help finding another space on campus. Martin called the move, "A giant step backwards for students at Cascade Campus who need affordable transportation options."
"The ASPCC [Associated Students of Portland Community College] funded bike program is being stonewalled and mothballed to the detriment to students, the community, and the environment," Martin wrote in an email today that was sent to co-workers and volunteers.
Martin told me in a phone interview today that his program has never found a permanent on campus. "First we were kicked out of a condemned building by the City of Portland, so we found space in the Underground [in the student center, which is now being demolished], now we've been forced out again…. Students are getting screwed."
25 of those students still have loaner bikes they received through the bike program and now have no way to return them.
"A giant step backwards for students at Cascade Campus who need affordable transportation options."
— Tom Martin, Bike Program Coordinator
Martin added that students had to take time out of class to rescue the bikes, tools and equipment before the center was closed. It's still unclear how, where, or when they'll be able to re-open.
The move to close the student center is part of PCC's ongoing, bond-funded capital construction project. Rebecca Ocken manages the construction projects. On Friday (5/22) at 4:00 pm (a holiday weekend, Martin notes) she sent a message about the closure to the Cascade campus email list. Here's an excerpt:
Phase II of the Cascade Bond work is starting with the Student Center. The old Underground, first floor dining space and second floor classrooms will all be closed starting Tuesday, May 26th. Contractors will be working in the space to get it ready for demolition later this summer.

This last phase of work will certainly transform the campus as the old Student Center is removed and a new plaza built in its place. The new Library will have a entryway, new common space, and a second classroom. It will be an exciting year ahead.
We've contacted Rebecca Ocken and PCC Community Relations Manager Abe Proctor for comment but have not heard back.
The Bike Program at PCC Cascade started in 2012 and has been successful in serving students and earning grant funding for new services. In 2013, the program won a Metro grant of $66,000 to create expand a bike rental program that was first piloted at the Cascade Campus. The bike program won another grant in 2015 to install secure bicycle lockers and educate students about bicycling to campus in 2015.
Martin said 95 students had rented bikes and his program provided free and/or low-cost bike repairs to 300 students so far this year. With this unexpected closure and no home for his program, Martin says the recommendations made in the Cascade Bike Plan that was adopted in 2014 cannot be fulfilled.
Stay tuned as we try and track down more information.
UPDATE, 6/1 at 1:20 pm: PCC Community Relations Officer Abe Proctor says the bike program has not been closed, only that it has been relocated.
During a phone conversation with me, Proctor said the bike program will be up and running at a new location as of June 22nd but that is has been closed temporarily for a major construction project (the building it was housed in is going to be demolished).
When it opens on June 22nd PCC staff and students will be able to access the bike services near the Margaret Carter Technology Education Building. "This is a popular program and the college and campus remain in support of it," Proctor said. "We're looking forward to locating a permanent home for it."
Asked why the manager of the bike program, Tom Martin, was very concerned about its status, Proctor said, "I suspect that Tom was frustrated because it's taken us a long time to identify a permanent home for the program."